Do Prop 57 and SB 1391 Apply in 1170(d) Resentencing?
It is unusual, but in can happen: the CDCR (California Department of Corrections and Rehabilitation) may ask that a prisoner be resentenced. It is not just an academic or hypothetical situation provided for in Penal Code § 1170(d)(1).
In a Nutshell: When the CDCR recommends that an inmate be resentenced and the judge agrees to recall the sentence and resentence that individual, AB 1391, Prop 57 and SB 620 can apply because the sentence is no longer final.

In 2001, a Pomona jury found defendant Vincent Hwang guilty of two counts of attempted murder (Penal Code §§ 664, 187(a)), assault with a semiautomatic firearm (Penal Code § 245(b)), carrying a loaded firearm (Penal Code § 12031(a)(a)), possession of an assault weapon (Penal Code § 12280(b)), possession of a silencer (Penal Code § 12520), possession for sale of a controlled substance (Health & Safety Code § 11378), possession of ingredients to make a destructive device (Penal Code § 12312); and shooting at an occupied building (Penal Code § 246).
The jury also found true enhancements that supported the imposition of firearm enhancements.
Defendant committed his crimes when he was 15 years old and was arrested within five days of his crimes.
The trial court sentenced him to 74 years to life in prison. The appellate court affirmed the judgement and the California Supreme Court denied review in 2003.
In 2018, the Secretary of the California Department of Corrections and Rehabilitation sent a letter to the trial court recommending that defendant's sentence be recalled and he be resentenced pursuant to Penal Code § 1170(d) because his sentence might be unlawful under People v. Rodriguez (2009) 47 Cal.4th 501.
In Rodriguez, the California Supreme Court held that Penal Code § 654 was violated when a defendant's sentence includes a personal firearm use enhancement (Penal Code § 12022.53(a)) and the Penal Code § 186.22(b)(1)(C) sentence enhancement for committing a violent felony for the benefit of a street gang because Penal Code § 1170.1(f) prohibits additional punishment with more than one enhancement for using a firearm in the commission of a single offense.
It is unclear what the trial court did in response to receiving this letter, but apparently, Mr. Hwang was aware that it was sent and in 2019, he filed a motion to modify his sentence according to Rodriguez, Senate Bill 620 (wherein the sentencing judge has discretion to strike certain firearm enhancements) and Prop 57 / Senate Bill 1391 (if resentenced, he was entitled to have his matter refiled in juvenile court for proceedings to start therein due to his age at the time of the offense).

Senate Bill 1391 broadened the benefits of Prop 57 to fourteen- and fifteen-year-olds by prohibiting prosecuting attorneys from moving to transfer individuals who commit certain offenses when they were 14 or 15 years old to adult court, unless they were "not apprehended prior to the end of juvenile court jurisdiction." Welfare & Institutions Code § 707(a)(2).
In response, the District Attorney conceded that Senate Bill 620 likely applied to his case, but that Prop 57 did not apply because Mr. Hwang's sentence was final in 2003, long before Prop 57 became law.
In September 2019, the trial court conducted a hearing under Penal Code § 1170(d). The court stayed the firearm enhancement on count 3 under Rodriguez, which resulted in a new sentence ten years shorter, but did not apply Prop 57 or SB 620.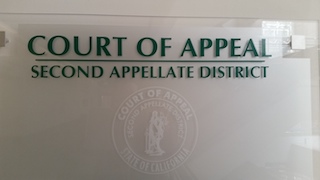 2nd Appellate District Court of Appeals
Mr. Hwang then appealed to the Second Appellate District in downtown Los Angeles, arguing that he was entitled to the benefit of Proposition 57, as well as Senate Bill 1391, and his matter needed to be remanded to the juvenile court.
The Second Appellate District reviewed the case law that interpreted Prop 57 and agreed with Hwang. The appellate court agreed with the People that in general, such provisions do not apply to defendants whose judgments are final.

However, the trial court's resentencing of Hwang pursuant to 1170(d) reopened the finality of that judgment. The only sentence that matters after resentencing under 1170(d)(1) is the new sentence, which is not final because a resentenced defendant can still obtain review from the California Supreme Court of the United States Supreme Court. People v. Lopez (2020) 56 Cal.App.5th 835, 845. He was also entitled to the ameliorative benefit of Senate Bill 620, as stated in section 12022.53(h). People v. Robbins (2018) 19 Cal.App.5th 660, 678-679; People v. Woods (2018) 19 Cal.App.5th 1080, 1090-1091.

Accordingly, the post-judgement order was reversed and the case was remanded to the trial court with directions to transfer the matter to the juvenile court for a juvenile adjudication consistent with this opinion.
In many of the articles we write about appellate court rulings, there is not too much change for defendant. Many result in no change, but we present the article to help explain a legal issue. This case had a huge effect – a big change – for Mr. Hwang. He most likely will be resentenced to time served in juvenile court and then released.

The citation for the Second Appellate District Court ruling discussed above is People v. Vincent Hwang (2nd App. Dist., 2021) 60 Cal. App. 5th 358, 274 Cal. Rptr. 3d 356.

For more information about resentencing issues, please click on the following articles: