Client Living in New Mexico, Bench Warrant, Torrance Case
Thirteen years ago, our client was arrested at the Manhattan Beach Fry's Electronics as he attempted to walk out of the store with a $499 DVD writer and a $19.99 NASCAR Racing 2002 video game.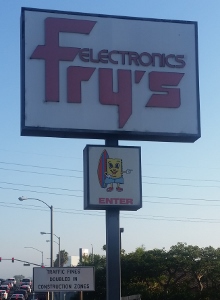 This seemingly rather minor shoplifting case was not so minor because of the client's extensive criminal history for forgery, embezzlement and one prior petty theft. The Manhattan Beach Police department knew about these past convictions and treated our client rudely at the station, telling him he ought to leave the country (our client was Hispanic and a U.S. citizen).
In 30 Words or Less: Thirteen-year old bench warrant recalled and quashed for client in Torrance for shoplifting case arising out of Fry's Electronics in Manhattan Beach. When bench warrant quashed, judge also removed five days of Cal-Trans our client agreed to perform in the plea bargain.

The case was charged as grand theft (Penal Code § 487). Through some good lawyering, his then-attorney was able to negotiate a plea bargain in 2003 that involved three years of summary probation, no jail time, five days of Cal-Trans labor and a fine of $300, plus penalties and assessments (total $1,080).
The client was relieved to avoid jail time and accepted the plea bargain.
On the day he was due in court to pay his fines, his girlfriend gave birth to their child, a baby boy. The client did not go to court, as he instead went to the hospital to be with his girlfriend.
As soon as she had the baby, however, she told our client that she no longer wanted him in her life and that she was going to move back home to Albuquerque, New Mexico. She then did so and our client followed her there, determined to remain a couple and help be a father to their son. Amidst all of this, the client decided to resolve his court case once his family situation resolved.
The family situation did not resolve, despite our client's best intentions. However, he remained in Albuquerque, far from the Torrance Courthouse.
One day in 2016, however, he was riding an Amtrak train back to Southern California for work and he overheard some people arguing about whether Mexicans should "all be deported." The argument got heated and our client became involved. The staff of the Amtrak train then detained our client and released him to the police in Barstow.
Once at the police station in Barstow, the bench warrant from Torrance was discussed. Our client was asked to sign a promise to appear in Torrance in about two weeks. He signed the promise and then became quite worried what might happen.
He called Greg Hill & Associates and spoke to Greg. He had called several other attorneys first, one of whom offered to handle his case for $5,000. Greg offered to handle the bench warrant recall for less than ten percent of that.
Moreover, the client said, Greg was able to explain who the prosecutors would be by name, which judge would handle the bench warrant and how this particular judge ruled on such old bench warrants. Greg strongly suggested that our client be prepared to pay the $1,080 owed immediately and be ready in case the judge wanted to remand him for a few days as a sanction for the long delay in payment. Greg also asked the client to bring the birth certificate of his son and wear and suit and tie.
The client then retained Greg Hill & Associates and gathered up $1,080 to show to the court as ready to be paid. He also found the birth certificate for his son that showed his son indeed was born on the very same day his fines were due. The client also went to Sears and bought a nice suit just for court.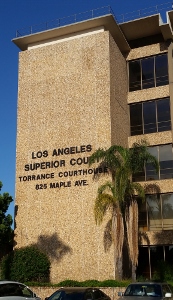 Torrance Superior Courthouse
Greg and the client then appeared in the Torrance Courthouse on the day promised by our client. The judge was pleased that the client had the $1,080 to pay and was impressed with his show of respect by wearing a suit and tie, even commenting upon this to the audience in the court. The judge recalled the bench warrant and terminated probation, deleting the five days of Cal-Trans that was originally required as part of the plea bargain.
The client was ecstatic and gladly paid the $1,080 down in the clerk's office, greatly relieved that his bench warrant was lifted and his probation was terminated.
For more information about early termination of probation and expungement, please click on the following articles:
Contact us.