Client Age 20 Drinking in Public, LAMC 41.27 Case Dismissed
Our client, age 20, was a student at U.S.C. He went to a tailgater before the U.S.C. versus U.C.L.A. football game at the Coliseum. He enjoyed a few beers and was walking back to his room at a house on Fraternity Row while holding a red cup with just a small amount of beer in it remaining.

As he was walking down the sidewalk, a uniformed Los Angeles Police Department officer asked him to stop and show him his identification.

Our client showed his driver's license, which showed he was under-21, while he was literally holding a most-consumed beer. The police officer issued our client a citation for violation of Los Angeles Municipal Code § 41.27(c), drinking in public. The citation actually would have been valid against our client regardless of his age, however, given he was under-21, it seemed to have more sting. The client signed a promise to appear in the Los Angeles Metro Court at 1945 South Hill Street in about six weeks.
The citation was a big concern for our client because he was on scholarship at U.S.C. while studying international relations (global business) and he knew that he would lose his scholarship if he was convicted of any crime. He had made it into his junior year so far, so he was more than half-way done with U.S.C. Making matters worse, he was an RA, or resident advisor, and responsible for enforcing no alcohol policies in the residence he supervised.
The client's mom called Greg Hill & Associates and spoke to Greg, asking if he could talk to a friend and just have the case dismissed. She would pay Greg to do this.
Greg responded that our criminal justice system really did not work that way, or if it did, Greg was not interested in being part of such a network.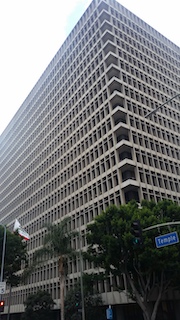 Clara Shortridge Foltz Criminal Courts Building CCB Los Angeles
Instead, Greg explained how the case should be handled for her son. Greg explained that he had handled quite a few cases very similar to this and the first thing her son ought to do is attend at least ten Alcoholics Anonymous (AA) meetings. The mom protested that her son was not an alcoholic and that attending such classes would be time consuming. Greg explained that he was not making any conclusion or judgment about her son, but he knew that a prosecutor and judge would consider such attendance with approval and perhaps even dismiss the case outright.
Second, Greg asked that her son provide him with his student ID to show he was a student at U.S.C. and his resume. The mom was eager to provide this if it would help her son, as she was extremely proud of him and was pleased that Greg might show the judge or the prosecutor her son's resume.
Greg then explained the general process of how such tickets are handled and explained how it varied in how they were handled. Sometimes, the ticket was referred to traffic court and filed as an infraction; other times, it was filed as a misdemeanor and handled through an arraignment and, possibly, several pre-trials and even trial if necessary or prudent.
The client then called Greg and Greg essentially repeated his lengthy explanation and had the same discussion with the client. Greg, at the time, had a then-19-year-old son at the University of Michigan Ross School of Business, so talking to a business student at U.S.C. who was just one year older felt comfortable. The client then told his mom to retain Greg Hill & Associates.
The client then provided his resume, a photocopy of his student ID and attended ten AA meetings as suggested, despite being in the midst of final exams for the semester.
Greg then went to the Metropolitan Courthouse and was pleased to find out that the case had been assigned to the traffic court calendar. Greg set an arraignment date about four weeks later after the initial arraignment. Greg then explained that this was generally good for the client's chances of having the case resolved as an infraction or even dismissed.
Greg then appeared at the arraignment and showed the judge the client's attendance at ten AA meetings. The judge looked this over and then went on the record to announce he would dismiss the case in the interest of justice under Penal Code § 1385. Greg thanked the judge.
The client was extremely relieved that this took place and thanked Greg for recommending he attend ten AA meetings, commenting that he really did not want to attend such meetings, during finals no less, but was glad he followed Greg's suggestion. He preserved his scholarship and could henceforth continue to claim he served as a resident advisor, something he probably would not have wanted to include on his resume if he were also convicted of drinking in public.

For more information about underage possession of alcohol, please click on the following articles: