Charged with Conspiracy? What Must the Prosecutor Prove?
In June of 2012, a jury in Contra Costa County convicted Jose Vega-Robles of conspiracy to sell controlled substances, as well as several other counts unrelated to any conspiracy, but significant nonetheless (two counts of first degree murder (Penal Code § 187(a)), attempted robbery (Penal Code §§ 211, 212.5 and 664), attempted murder gang allegations (Penal Code § 186.22(b)(1)) and firearm enhancements (Penal Code § 12022.53(b), (c), (d) and (e)(1)).
The Gist of this Article: To convict someone of conspiracy, the jury or judge must find that defendant and another person had the specific intent to agree or conspire to commit a crime and the specific intent to them commit the crime and then commit an overt act in furtherance of the agreement.

It was alleged and the jury found it true, that Mr. Vega-Robles conspired with eight other identified men to sell "crystal" (methamphetamine) and "coke" (cocaine) (a violation of Health and Safety Code § § 11352 and 11378) for the benefit of two criminal street gangs, family Affiliated Irish Mafia (FAIM) and Los Sureños.
The underlying facts of the case were that Vega-Robles and four others sold narcotic and non-narcotic controlled substance from January 1, 2004 to November 30, 2005 in the Richmond/San Pablo area. The group would buy meth in Los Angeles and then resell it in Northern California. Most of the meth originally came from Mexico. The group also sold marijuana. All drugs were sold in large quantities, sometimes as much as ten pounds.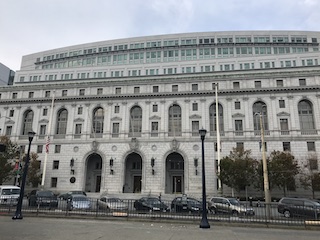 Court of Appeal First Appellate District San Francisco
After police untangled the myriad of crimes and identified who did what in all the crimes, arrest warrants were issued and Vega-Robles was arrested in Petaluma after he returned to the United States from Mexico in 2007.
After years of proceedings in 2012, a jury convicted Vega-Robles of the above offenses and he appealed to the First Appellate District Court of Appeal.
While Vega-Robles' appeal was pending, the California Supreme Court decided
People v. Chiu
(2014) 59 Cal.4th 155, which held an aider and abettor may not be convicted of first degree premeditated murder upon a natural and probable consequences doctrine. Since the First Appellate District could not determine if Vega-Robles' conviction as an aider and abettor in the first degree murders was on the natural and probable consequences theory (the special verdict did not call for such a finding), Vega-Robles' convictions on these two counts were vacated and the case was remanded back to the trial court for further proceedings.
The reader of this summary may question this, wondering if such a decision is retroactive. It generally is and was here.
People v. Carter
(2005) 36 Cal.4th 1114, 1144.
Turning to the appeal's argument that the convictions relating to a conspiracy involving Vega-Robles must be vacated, the Court of Appeal noted first Penal Code § 182(a)(1), which states, "a conspiracy is an agreement by two or more persons to commit any crime." "A conviction of conspiracy requires proof that the defendant and another person had the specific intent to agree or conspire to commit an offense, as well as the specific intent to commit the elements of that offense, together with proof of the commission of an overt act 'by one or more of the parties to such agreement' in furtherance of the conspiracy."
People v. Morante
(1999) 20 Cal.4th 403, 416.
Vega-Robles argued that of the eight others he allegedly conspired with to sell meth and coke, the eight did not know what all the others were doing, so there was no agreement uniting them all. In fact, some had never met the others or even knew their names.
In response, the Court of Appeal found caselaw directly on point undercutting this argument, quoting
People v. Van Eyk
(1961) 56 Cal.2d 471, 479, which held that, "the prosecution need not prove that each conspirator knew the identity of all other members of the conspiracy, or their exact functions." In fact, if the Vega-Robles only conspired with one other individual instead of many, as was alleged, he is still guilty of conspiracy.
People v. Collins
(1966) 242 Cal.App.2d 626, 633-634.
Turning to the evidence shown in the court transcripts from the trial, the appellate court found that Vega-Robles indeed was in a vertical chain operation that distributed meth and coke to complicit distributors in Contra Costa County. Vega-Robles dealt with quantities as large as 30 pounds and cash often exceeding $400,000. Several witnesses testified about who Vega-Robles sold the meth and coke to, which were other FAIM members, with instructions to sell the drugs and share the proceeds with the gang leaders.
As such, Vega-Robles' appeal was denied on the conspiracy argument.
The citation for the First Appellate District Court ruling discussed above is People v. Jose Vega-Robles (1st App. Dist., 2015) 236 Cal.App.4th 554 (later appealed to the First Appellate Court over gang expert testimony at People v. Jose Vega-Robles (1st App. Dist., 2017) 9 Cal.App.5th 382).

For more information about conspiracy, click on the following articles:
Contact us.