Central California Women's Facility (CCWF)
23370 Road 22, Chowchilla, CA 93610 (559) 665-5531
This female-only prison is located about 20 miles north of Fresno along Route 90, north of Madera. It is across the road from Valley State Prison, a male-only state prison. Chowchilla, as it is known, had 2,800 inmates as of March, 2012. Its design capacity was 2,004, so it is overcrowded. It holds prisoners of all security levels. It holds certain prisoners with death sentences ("Death Row"). There are now about 20 such prisoners on Death Row there at Chowchilla.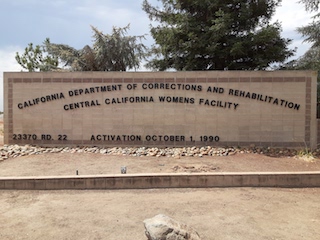 Central California Women's Facility
The prison opened in 1990. The prison does provide inmate academic education, work and vocational training, counseling and specialized training for reintegration of prisoners back into society. The prison has been the subject of recurring claims of inadequate health care and medical services.
Some of the more famous Chowchilla inmates included Susan Atkins, an associate of Charles Manson. She died at Chowchilla of brain cancer in 2009. Judy Wong, the former mayor and the first Chinese-American city council member in Temple City, served time at Chowchilla for her role in a multi-million dollar corruption scheme. She was released in 2011.