Can One Demurrer to a Criminal Complaint? On What Basis?
If one has any significant experience in civil litigation, he or she may be familiar with a demurrer. The purpose is to test the legal sufficiency of a complaint. Many defense attorneys file such pleadings to financially grind down the plaintiff, while accumulating billable hours for their firm. Such tactics are scorned by most judges. However, a demurrer may be effective when the judge sustains it to one or more causes of action without leave to amend.
About This Article Briefly: It is rare to have legal grounds to file a successful demurrer to a complaint in a criminal case and even more rare for a judge to sustain it without leave to amend. However, a diligent criminal defense attorney should be aware that this is possible.

In a criminal court, a demurrer is rare, but also can be helpful in narrowing down the scope of charges or even in having the case dismissed.
Like its civil counterpart, a criminal demurrer is used to challenge defects that appear on the face of the complaint or information. Penal Code § 1004. Section 1004 lists the five grounds on which a demurrer may be filed. These grounds are considered exclusive, meaning there are no other legal grounds for a demurrer in a criminal case.
People v. Saffell
(1946) 74 Cal.App.2d Supp 967, 972, 168 P.2d 497.
However, it is wise to understand that just as in a civil case where a demurrer is sustained with leave to amend (the plaintiff can fix the problem), the prosecutor in a felony case can also fix the defect and refile. This is because the first dismissal is not final (the "two dismissal rule" for felony complaints, per Penal Code § 1387). Instead, the smart thing may be to raise it for the first time on appeal, even if no objection was made to the pleading in the trial court.
People v. Zamora
(1976) 18 Cal.3d 538, 547, 134 Cal.Rptr. 784. This way, the prosecutor cannot fix the error and refile.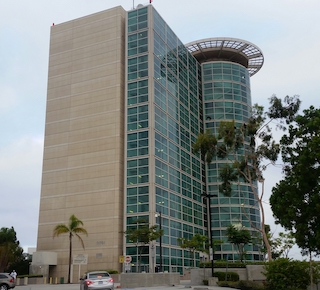 Airport Courthouse
If defendant does intend to file a demurrer, it can challenge specific counts and enhancement allegations.
People v. Equarte
(1986) 42 Cal.3d 456, 467, 229 Cal.Rptr. 116.
The first allowed ground for a demurrer is simply that the court has no jurisdiction over the offense charged. Penal Code § 1004(1). For example, in
People v. Superior Court
(
Caswell
) (1988) 46 Cal.3d 381, 280 Cal.Rptr. 515, the court sustained a demurrer on grounds that the constitutionality of Penal Code § 647(d) had been adjudicated as unconstitutional (back then). Another example, more common, is that the statute of limitations to charge such an offense had run. See
In re Demillo
(1975) 14 Cal.3d 598, 121 Cal.Rptr. 725. Also, the crimes may have occurred outside the territorial jurisdiction of the court.
People v. Webber
(1901) 133 Cal. 623, 66 P. 38. It merits mention that when a complaint is dismissed on territorial jurisdiction grounds, the two-dismissal rule of Penal Code § 1387 would not apply.
Less favored is the second ground for demurrer: uncertainty. Penal Code § 1004(2). This means the description of the conduct or the crime is so ambiguous that it does not give defendant notice of the offense charged and what to defend against. See, e.g.,
People v. Horiuchi
(1931) 114 Cal.App.415, 300 P. 457. This is rare.
The third permitted ground for demurrer is misjoinder, under Penal Code § 1004(3), i.e. a count with strong evidence is being used to bolster a seemingly unrelated count with weak evidence.
Williams v. Superior Court
(1984) 36 Cal.3d 441, 452, 204 Cal.Rptr. 700. The solution for the defendant is to not only demurrer, but to sever the case into two cases. This may also be that one defendant is joined as a defendant in a case with multiple offense. This is generally not allowed unless there is at least one count in which all defendants are charged.
People v. Ortiz
(1978) 22 Cal.3d 38, 43, 148 Cal.Rptr. 488);
Dove v. Superior Court
(1974) 39 Cal.App.3d 960, 114 Cal.Rptr 889 (husband and wife charged with same statutory offenses, but occurring on different dates).
Fourth, one can demurrer if no offense is stated. Penal Code § 1004(4). This is similar to the first ground concerning jurisdiction. For example, a demurrer was sustained in
People v. Smith
(1955) 133 Cal.App.2d Supp. 777, 779, 284 P.2d 203 based on a complaint alleging a violation of a statute that had been found invalid by another court.
Lastly, a demurrer may seek dismissal of a complaint, information or individual counts on grounds that the pleading contains matter that, if true, is legal justification for the offense charged or is a legal bar to prosecution. For example, in
People v. Ayhens
(1890) 85 Cal. 86, 24 P. 635, a demurrer was sustained when the allegation of the time of commission showed that the statute of limitations had passed.
For more information about challenges to the pleadings, please click on the following articles:
Contact us.