Can a Criminal Trial Proceed without Defendant Present?
A defendant who is representing himself may absent himself or herself from trial under certain conditions.
However, the defendant can't just wake up the morning of trial and decide not to show up and then find out two days later that trial proceeded nonetheless and there was a conviction. This is because the consequences of a verdict are significant and before such results occur, the defendant must waive important constitutional rights associated with trial.
The Reader's Digest Version: A criminal trial may proceed without defendant in the courtroom, often after defendant is removed due to multiple outbursts and/or causing interruptions so as to prevent the orderly nature of proceedings.

The reader of this article may be facing trial and wonder what happens if he or she just does not show up. In our experience, this happens quite a bit. People are scared of being sent to prison or jail. Usually, especially if the defendant is represented by counsel, the judge simply issues a bench warrant for the defendant and proceeds with the next case in the courtroom. Eventually, defendant is picked up on the bench warrant and then faces trial.
What if defendant is acting as his or her attorney? Then the rules do change. The First District Court of Appeal considered such a case in
People v. Parento
(1991) 235 Cal. App. 3d 1378. Mr. Parento had delayed the case multiple times and after electing to represent himself, again requested a continuance. He then requested appointment of counsel. Apparently, the judge perceived he was simply trying to delay trial. The judge denied the request.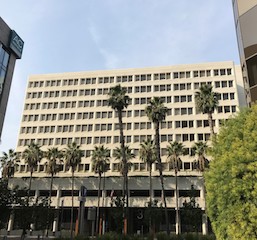 Court of Appeal Sixth Appellate District San Jose
Mr. Parento then told the court, "Just do it without me. That's what you do. Just write me a letter when it's over. That's what you do." Parento then refused to participate further in the proceedings. Trial then proceeded and he was convicted in absentia.
Parento then appealed the conviction because he was not there. The First District Court of Appeal upheld the conviction, finding that Parento had knowingly and voluntarily absented himself from trial on the record. Other courts across the county have had the same approach in similar situations.
But what should a judge do when the waiver of the right to trial is not so clear? The case of
People v. Zeferino Espinoza, Jr
., considered by the Sixth Appellate District in late January, 2015 (2015 DJDAR 1209), addressed this situation.
Espinoza was charged with eight counts, ranging from possession of a firearm by a felon (Penal Code § 12021(a)(1), repealed and reenacted as Penal Code § 29800(a)(1)), possession of morphine (Health and Safety Code § 422), possession of marijuana (Health and Safety Code § 11357(b)), possession of ammunition by a felon (Penal Code § 30305(a)(1), attempting to dissuade a witness by use or threat of force (Penal Code § 136(c)(1) and possession of diazepam without a prescription (Health and Safety Code § 11375(b)(2)).
After three years at 65 pre-trial hearings, during which time seven different public defenders represented Espinoza, trial began. During jury selection, the judge granted Espinoza's motion to relieve his counsel, finding Espinoza had waived his right to appointed counsel, too. Trial began that same day.
The next day, Espinoza failed to appear in court. The court clerk's efforts to contact Espinoza were unsuccessful. The judge then found that Espinoza had purposefully absented himself from trial. Espinoza was then convicted and sentenced to two years and eight months in state prison.
Espinoza then appealed his conviction, arguing that the Santa Clara County judge violated his constitutional rights to due process, to be present at trial, to present a defense and to confront witnesses against him.
The Sixth Appellate District began its analysis by noting that the right to be present at trial may be expressly or impliedly waived.
People v. Concepcion
(2008) 45 Cal. 4th 77, 82.
Here, the Sixth Appellate District looked to the
Parento
case discussed above. It found that Mr. Espinoza had not, on the record, voluntarily and expressly absented himself from trial. He just did not show up. The judgment was thus reversed.
The reader of this summary must recognize that when Espinoza is tried a second time, the judge may not be so lenient in its sentencing if Espinoza loses. The two year, eight month sentence first ordered by the judge will probably not be repeated.

The citation for the Sixth Appellate District Court ruling discussed above is People v. Zeferino Espinoza, Jr. (6th App. Dist., 2015) 233 Cal.App.4th 914 (affirmed by the California Supreme Court at People v. Espinoza (2016) 1 Cal.5th 61).
Postscript: The California Supreme Court has since reversed the appellate court, making the Zeferino Espinoza holding moot.

For more information about the issues in this case, click on the following articles:
Contact us.