California State Prison, Los Angeles County (LAC)
44750 60th Street West, Lancaster, CA 93536, (661) 729-2000
This is a male-only prison that houses both minimum security and maximum security inmates. It has a soap factory that inmates work in. It also is a re-entry hub with training in commercial plumbing, commercial painting, masonry and computer literacy. There were approximately 3,700 inmates there in late 2012, but the numbers have probably decreased due to AB109's effects.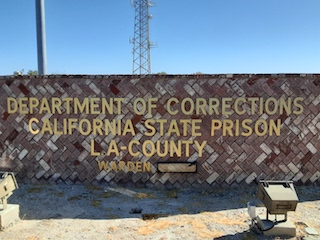 CA State Prison Los Angeles County
The prison is relatively new, only opening in 1993. Four inmates escaped from the prison in 1993. The prison houses Brandon David McInerney, who murdered fellow gay classmates Larry King in 2008. McInerney was found guilty of second degree murder, voluntary manslaughter and use of a firearm. He was sentenced to 21 years in prison. The facility also holds Rene "Boxer" Enriquez, a former high ranking member of the Mexican Mafia for over 20 years.