California State Prison, Corcoran (COR)
900 Quebec Avenue, Corcoran, CA 93212, (559) 992-7100
This is a male-only state prison located about one hour north of Bakersfield. It is home to Charles Manson and Juan Carona, a Mexican serial killer of 25 itinerant farm workers in the early seventies. He was sentenced to 25 life terms. Sirhan Sirhan, the convicted murdered of Robert F. Kennedy, also was housed there from 1992 to 2009.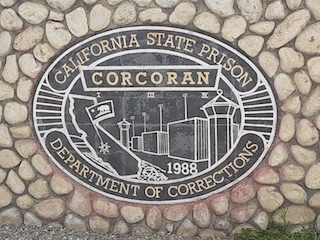 California State Prison Corcoran
In March of 2012, there were approximately 4,500 inmates there. The facility has a design capacity of just over 3,000. The prison is fairly new, having opened in 1988. The prison was notorious for fights and was featured in two MSNBC Lockup specials (Inside Corcoran (2003) and Return to Corcoran (2005)).