California State Prison (CAL)
7018 Blair Road, Calipatria, CA 92233, (760) 348-7000
This is a male-only prison located in Imperial County, in the far southern part of California. Calipatria is 184 feet below sea level and has summertime temperatures of up to 118 degrees. It is 23 miles north of El Centro, which is itself approximately two hours east of San Diego. The prison population was 4,180 in September, 2007, but that figure certainly went down due to AB109.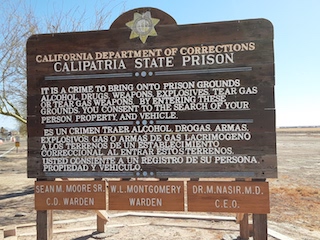 CA State Prison Calipatria
The prison has over 2,000 maximum security cells (Level IV) with an electrical fence surrounding that will instantaneous death to an escaping prisoner (and notoriously caused this to many birds that landed on it). The prison installed the "one of a kind" fence in 1993. The prison itself opened in January, 1992. The prison smells like cow manure due to a large cattle feed lots nearby.
Angela Buono, the famous "Hillside Strangler," died at the prison in 2002. In 2005, there was a massive riot there, leaving 25 inmates and 25 staff wounded. One inmate died from a shot from a guard. The riot was apparently started by a Hispanic gang. Earlier, in 1995, five inmates assaulted eight staff officers there. Jesse James Hollywood is a prisoner there right now, as well as Damian Williams, perhaps the most well-known of the attackers of Reginald Denny, who was injured during the Rodney King riots in 1991.