California Correctional Institution (CCI)
24900 Highway 202, Tehachapi, CA 93561, (661) 822-4402
Opened in 1932, this prison is a "Supermax" prison located about 35 miles south east of Bakersfield and 45 miles north of Los Angeles, near Lancaster and Edwards Air Force Base. The prison is situated at 4,000 feet in elevation, so it does received snow occasionally in the winter. As of March, 2012, it housed about 4,800 prisoners, or about 165% of its design capacity of 2,783.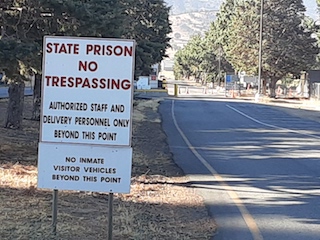 CA Correctional Institution
The prison was originally an all-women prison, but in 1954 became men-only. It was featured in the film "Maltese Falcon," starring Humphrey Bogart as investigator Sam Spade in the 1940's and also in "The Postman Always Rings Twice." Lyle Menendez, who was convicted of murdering his parents for an inheritance in the early 1990's, was sent to CCI on a life without the possibility of parole sentence, as was celebrity chef Juan Carlos Cruz, in 2010, for solicitation of murder. Glamour aside, this is a rough and tough place.