Bellflower, Shoplifting, Early End to Probation, Expungement
Our client, age 40 and here in the United States from Vietnam on a visa, was arrested for shoplifting at the Macy's in Bellflower.
She had attempted to steal over $700 in clothing and perfume by concealing the items in her large purse. She was stopped by Macy's loss prevention officers as she was walking through the parking lot on the way to her car.
In a Nutshell: Probation ended early at Bellflower courthouse for client on summary, or informal, probation for shoplifting. Ending probation early helped ease her travel worries to Vietnam so she could visit with her mom and sister, both of who were terminally ill. After probation was ended early, we requested expungement of the conviction, which the judge also granted.
She was taken to an upstairs office within Macy's and then the Lakewood Sheriffs were summoned to the scene. They then took her to the sheriff's station for booking. The events were especially traumatic for our client's daughter, who was left at school with no one to pick her up for several hours because the client's husband was away on business.
When the client was released from the sheriff's station, she was able to locate her daughter and her husband came back from his business trip early. The couple then called Greg Hill & Associates and met with Greg about the fairly large amount stolen.
Greg eventually negotiated to a plea bargain wherein the client did enter a plea to a violation of Penal Code § 484(a), petty theft (shoplifting), and was placed on three years of summary probation, contingent upon her performing ten days of community service, payment of $271 in restitution and payment of $150 in court fees, plus penalties and assessments (about $750), or performance of five additional days of community service.
The client quickly performed the community service and paid the $271 in restitution. The client opted to perform five additional days of community service in lieu of paying court fines of $150, plus penalties and assessments.

The client then contacted Greg Hill & Associates at about her half way mark in her probation. Her mom was about to pass away from end-stage Parkinson's disease and her sister was dying from lung cancer. Both were still in Vietnam. She wanted to go back to Vietnam to help her father care for her mom and sister, but she was told by an immigration attorney that with her record showing she is on probation and having a conviction, she may not be able to enter Vietnam or then leave Vietnam later.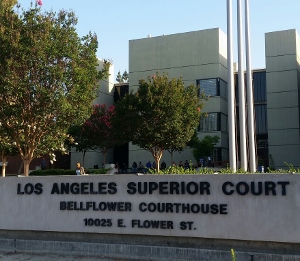 Bellflower Superior Courthouse
Greg then suggested asking the Bellflower Superior Court judge to end probation early and then later, seek withdrawal of the plea and dismissal of the complaint (expungement). The client agreed to try this.
Greg then prepared the motion for early termination of probation. With the motion, we included a declaration from the client, explaining why she wanted her probation terminated early so she could go back to Vietnam and further explaining that she wanted to stay in the United States and eventually become a U.S. citizen. She described how she had spent hundreds of hours volunteering in the classrooms of her two daughters, age 10 and 16, and even served as an AYSO referee in the local community.
Greg Hill & Associates then filed the motion in the Bellflower Superior Court. This type of motion used to be granted rather easily, but in the last few years, judges have been more reluctant to do so. So Greg was a bit trepidatious at the hearing, not knowing how the judge might rule. However, the judge did grant the motion, apparently sympathetic to our client's family situation.
Greg Hill & Associates then prepared a petition for dismissal of the complaint (expungement) and filed it at the Bellflower courthouse. The same judge granted the petition as well.

Needless to say, the client was pleased and did travel back to Vietnam to see her mother and sister.
For more information about post conviction relief, please click on the following articles:
Trial Court That Denied Expungement Because Petitioner Given a Five Year Joint Suspended Sentence Is Reversed on Appeal
Contact us.