Bellflower, Expungement of 28 Year Old Conviction for PC 476
In 1987, our client was in a bind. She had experienced a series of personal tragedies and, at age 28, did not feel like she was young enough anymore to ask for her parent's financial help. She knew that writing a check without sufficient funds in her checking account would subject her to an overdraft fee, but needed to cover certain expenses, at least temporarily.
In a Nutshell: Client has 28-year-old conviction for "Passing Bad Checks" from 1987. She was a mortgage underwriter applying for her MNLS license in Texas. She contacted us to have the conviction expunged to help her get the license.
She thus wrote several checks without money in her checking account. Since she expected a payment from her job shortly, she did not think her bank would get too upset. Besides, they would fine her with an overdraft fee, so, in our client's opinion, the bank would be satisfied with this consequence.
The client did not post-date her checks or advise or warn the payees, either, that there were insufficient funds in the checking account. She just sent out the checks, fully knowing what was going to happen.
Our client failed to appreciate how many times she had already done this with one payee, who did not appreciate our client's payment history. Our client never apologized for her bounced checks, always blaming this instead on her employer.

This particular payee was angry and contacted the Norwalk Sheriff's Department, who took a report and recommended prosecution to the Bellflower District Attorney's Office. The DA did file a complaint against our client, who quickly resolved it with a plea bargain to a violation of Penal Code § 476A(a), "passing bad checks," at the arraignment.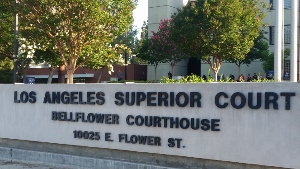 Bellflower Superior Courthouse
She did repay the payee in restitution and completed her probation in 1990. However, the conviction compromised her career as a mortgage underwriter for two and half decades until 2015. She had continued along in her job, content to simply be employed, but underemployed. Finally, in 2015, she decided to apply for her MNLS license, but learned it was impossible with this conviction on her record.
In 2015, she contacted Greg Hill & Associates and explained her conviction and her employment situation. She had heard about expungement, but did not really understand what it entailed.
Greg explained that a petition for dismissal here in California would not erase, delete or remove the conviction from her record, but it would most likely reduce the delays she might encounter in Texas in applying for her MNLS license.
Greg further explained that when a judge grants a petition for dismissal under Penal Code § 1203.4, in California, the client's last plea in the case is changed to "Not Guilty" and the case is then dismissed. From an employment perspective, the client is legally allowed to answer "no" in response to an employer's question if that person was convicted of the offense, except for certain exceptions.
The client agreed to retain Greg Hill & Associates to prepare, serve and file the petition for dismissal under Penal Code § 1203.4. Greg Hill & Associates then went to the courthouse and looked over the court docket in the client's case to make sure she was indeed eligible.
Greg Hill & Associates then prepared a short memorandum of points and authorities, accompanied by a two page declaration from our client in support of the petition and then attached both documents to the CR-180 judicial council form, titled "Petition for Dismissal." Our office then filed this packet with the Bellflower court clerk and served the Bellflower District Attorney's office with the documents.
About five months later, the court granted the petition. This was quite a lengthy waiting period, much longer than in most courts for such a petition, but relative to the 25 years our client had already waited, this was not too bad.
Our client was extremely happy with this ruling, relieved that she could now apply for her mortgage underwriter license with less of a record holding her back.
For more information about the issues in this case, please click on the following articles:
Trial Court That Denied Expungement Because Petitioner Given a Five Year Joint Suspended Sentence Is Reversed on Appeal
Contact us.