AB 1076 – What Does this New Law Provide and When?
On October 8, 2019, Governor Gavin Newsom signed Assembly Bill 1076 (AB 1076) into law, setting forth an automated system that is intended to "expunge" all misdemeanor and non-violent felony convictions for those who successfully completed probation without any probation violations and who are not registered sex offenders, facing a current open criminal case and not on probation or parole.

In a Nutshell: Assembly Bill 1076 is a new law intended to create an automatic system for expungement of all misdemeanor and non-violent felony offenses wherein defendant successfully completed probation and the underlying charge is not otherwise excluded from expungement eligibility, provided defendant is not otherwise in custody, on parole, on probation in another case or facing pending charges. The new law also provides for automatic sealing of such convictions.

The new law also permits automatic sealing of arrests for misdemeanors and non-violent felonies that do not lead to convictions.
The law, to be codified at Penal Code § 851.93, is set to take effect on January 1, 2021. The law only applies to convictions and arrests taking place after January 1, 2021. The original bill applied fully retroactively. A first amendment to the bill modified it to reach back to January 1, 1973 and then the final, signed version was further modified to only apply to arrests and convictions taking place after January 1, 2021.
"Expunge" is within quotation marks to emphasize that it is a term that appears nowhere in our Penal Code. It is a term used to describe an often-misunderstood event. "Expungement" is generally understood within California to refer to the right of an eligible individual to have a qualified case with a final plea of guilty or no contest changed back to not guilty and the case final disposition changed to dismissed. More importantly, this relief (provided under Penal Code § 1203.4, et seq.) entitles the defendant to enjoy the legal fiction of being able to say he or she was never convicted of the crime, with certain exceptions. This can have significant employment, housing and educational benefits.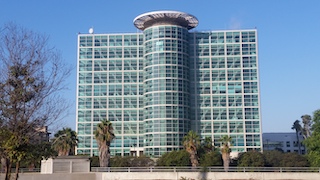 Airport Courthouse
Assembly Bill 1076 is meant to remove the financial barrier that many believe exists for those with conviction(s) from having such convictions "expunged." Apparently, legislators have been advised that attorneys typically charge between $1,500 and $10,000 to help someone "expunge" a conviction. For the record, Greg Hill & Associates has never charged more than $750 for such a service because the work is not difficult and does not take too much time. We have handled over 150 expungements for clients. Nonetheless, AB 1076 seems to be a legislative attempt to remove such predatory attorneys with high legal fees from standing in the way of otherwise deserving defendants seeking a second chance in life.

The bill obligates the California Department of Justice (DOJ) to produce a monthly list of everyone who has been placed on probation or served time for an offense that is eligible for relief under 1203.4, as described above, and who is not a registered sex offender, on probation, on parole or subject to prosecution in an open case.

The DOJ is then supposed to automatically review qualifying records and change the final disposition on such cases to "dismissed" and the final plea to "not guilty" as 1203.4 provides. No fee will be charged to the defendant benefitting from this.
The DOJ is then supposed to notify the courthouse associated with the case that its court clerks may not release the criminal history of anyone who has received such relief to any private person or private enterprise. This is perhaps the only provision in the law that adds to existing benefits of 1203.4 relief. AB 1076 otherwise really just offers parallel relief to Penal Code § 1203.4.
While we applaud the intent behind this law and the removal of financial barriers to those who seek such relief, we anticipate implementation of this new law will be problematic. Time will tell, obviously, if the bill creates more problems than benefits.

For example, if one is aware of AB 1076 and incorrectly believes he or she is eligible for relief, that person may answer "no" to an employment application question asking if he or she has ever been convicted. The conviction may be a minor offense that is not yet eligible for expungement. In fact, the employer would hire the person even knowing about the conviction. However, by answering no, and the employer seeing the conviction, the potential employee is seen as dishonest and less than candid, which is far more disqualifying than the conviction itself.
Likewise, employers may be well-versed on AB 1076, but believe that every single conviction dating back forty or fifty years is eligible for relief is somehow changed all at one time automatically. The employer, relying on this assumption, then may make a hiring or promotion decision based on seeing a conviction that appears, but would be changed to a dismissal a few months later. The employer may even incorrectly infer that since the conviction remains, the employee is a registered sex offender when the employee is not. Such an unfair stigma can be devastating, as the employer may seek to terminate the employee at the first opportunity to find "good cause" to do so.
We therefore recommend that for anyone with a conviction eligible for expungement, apply for expungement now to remain on a level playing field with those who do receive it automatically starting in January 2021.

For more information about expungement, please click on the following articles: