What's the Difference Between a No Contest and Guilty Plea?
In most cases that are resolved by plea bargain, a defendant will enter a plea of "no contest" (short for nolo contendere) to some type of charge that may have been vigorously negotiated. The plea resolves the case without trial and without admitting guilt. It is a way that a defendant can still assert he or she is not guilty and not confess to the crime.
In a Nutshell: A "no contest" or nolo contendere plea is distinguishable from a "guilty" plea on several grounds, depending upon whether the case is a felony or a misdemeanor and whether there are pending parallel civil proceedings, immigration or professional licensing proceedings.

However, anyone entering such a plea should understand that a no contest plea has the same legal effect in a criminal court as a plea of guilty. The judge will ask the defendant if he or she understands this upon entering the plea. This means that the judge can then still find defendant convicted of the crime and then enter a sentence of probation or time in custody.
It merits mention that the judge must approve of the no contest plea rather than a guilty plea. This is regularly done in almost all counties in California, with the exception of Orange County, which generally does not allow no contest pleas.
This type of plea has only been allowed in California since 1963, with the addition of Penal Code § 1016(3). In other words, it is a fairly recent development added to allow resolution of the case without forcing the defendant to directly admit to the charges. This way of ending the case, however, has been around since the reign of King Henry IV (1367-1413) in England, at which time the nolo contendere plea was described as "an implied confession," wherein the defendant "doth not directly own himself guilty, but in a manner admits it by yielding to the King's mercy, and desiring to submit to a small fine in which case, if the court thinks fit to allow such submission, and . . . and without putting him to a direct confession . . . the defendant shall not be estopped to plead not guilty to an action for the same fact." See 1 Critty, Criminal Law 430 (1826 ed.).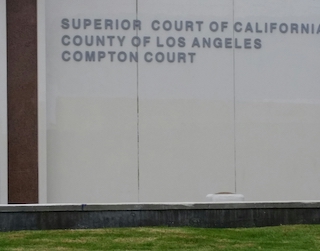 Compton Courthouse
In other words, the no contest plea, as described nearly seven hundred years ago, allows defendant to maintain his defense in another action for the same conduct. This has been interpreted under California law to mean that a no contest plea cannot be used as an admission in a civil action arising over the same conduct. Penal Code § 1016(3).
An example of this may be in a criminal action for misdemeanor hit and run, defendant may enter a no contest plea to resolve the case, avoid trial and take advantage of a favorable plea bargain. The plaintiff in a parallel civil action for negligence and personal injuries, arising out of the car accident that was the hit and run, cannot use defendant's no contest plea as an admission of fault to establish negligence.
Another example is in a misdemeanor sex offense case, wherein there is a parallel civil action for battery and emotional distress. Defendant in the criminal case would want to plead no contest to bar such a plea from being used as an admission of fault in the civil action.
However, it should be understood that a no contest plea to a felony offense is admissible as an admission in a civil case growing out of the act on which the criminal prosecution is built. Penal Code § 1016(3).
In contrast, a guilty plea to either a felony or a misdemeanor may be used as an admission in a civil case.
Teitelbaum Furs, Inc v. Dominion Ins. Co.
(1962) 58 Cal.2d 601, 25 Cal Rptr. 559. This does not violate fundamentals of double jeopardy because a civil action is not a prosecution.
In our experience, when one enters a no contest plea and restitution may be involved, the judge and prosecutor will be eager to have the defendant admit to causation of any injuries or damage that was involved. A good defense attorney must be sensitive to this and, when asked by the judge if counsel agrees there is a factual basis for the plea, to answer "subject to
People v West
."
People v. West
(1970) 3 Cal.3d 595, 611, 91 Cal.Rptr. 385. This will mean that in any restitution hearing, the alleged victim or victims seeking restitution will remain obligated to prove causation of their damages by the conduct that defendant was accused of.
For more information about pleas in general, please click on the following articles:
Contact us.