What's Second Chance Women's Re-Entry Court? Who's Eligible?
The Second Chance Women's Re-Entry Court (WRC) is a Los Angeles County Superior Court program meant to give a second chance to female parolees or probationers who find themselves in trouble again with a new felony offense and face being remanded to prison. It is rehabilitation program that if completed results in the new case being dismissed under Penal Code § 1203.4 (expungement).
Why This Article Matters: Second Chance Women's Re-Entry Court is a female-only probation or parole program to help women with job skills and life skills to re-enter society and succeed by overcoming chronic drug, alcohol and/or mental health issues that previously have led the female into a cycle of crime. It is at CCB in Department 42 with Judge Michael Tynan.

This program is only for women and is meant to address the underlying issues (addiction, lack of job skills, and /or mental illness) that seems to push such women into a cycle of committing crime, usually non-violent offenses like petty theft, drug possession, prostitution, (first degree burglary can qualify if non-violent) etc., that are either a function of the illness or meant to support the illness.
Most importantly, the female must be agreeable to treatment for their underlying issue (not all are). The woman is screened and a written report is prepared to document her amenability to treatment.
The applicant may, however, be found ineligible if she any prior convictions for child abuse, an excessive record of violence or have any prior conviction for a strike offense.
To be eligible for must also face a non-violent, non-serious felony or admit a probation violation. The applicant must then this program, the female applicant plead guilty to the charge.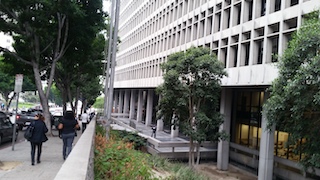 CCB Courthouse
Their case is then referred to Department 42 in the Clara Shortridge Foltz building, also known as the Central Criminal Building (CCB) in downtown Los Angeles. Judge Michael Tynan, now in his late 70's, is the judge in 42.
Judge Tynan, himself a former public defender, helped form the program in response to a growing trend of more and more women being repeat offenders over the last two decades. The program started in 2007 to address what it thought was the causes of such a trend and with the goal of reversing the trend, one woman at a time.
Every woman in the WRC is placed on three years of formal probation, beginning with a six-month residential treatment program, followed by a six-month outpatient treatment program. If there are no openings available when the woman begins the program, she will be housed in Los Angeles County Jail until a bed at the residential treatment facility is available.
After the one year of treatment is completed, the program participant is required to report to Department 42 on a regular basis for progress hearings on employment, continued attendance in a support group (i.e. narcotics anonymous or alcoholics anonymous) and a few questions from Judge Tynan himself, who will inquire into their progress.
He will often suggest that the woman enroll in a local community college class to learn something she knows nothing about, or join a women's only adult soccer league or softball league to simply interact with others who are outside the ring of people the program participant may have associated with for years. He may also suggest a book for the woman to read and order her to write a 1,000-word essay on what the book meant to her. He will then read the essay at the next hearing and have a conversation with her about it.
The atmosphere in the courtroom is unconventional, but contagiously positive and gives such women a sense of determination and ambition.
When each woman finishes her three years in the program, there is an informal graduation ceremony where Judge Tynan himself says a few words, shakes the woman's hand and gives her a small certificate after dismissing the case.
If the woman fails in the program, i.e. she walks away from the residential treatment program, tests dirty, or lapses into committing a new crime while in the program, judgement is entered against her on the new charge and she faces yet another conviction, which could land her back in prison or county jail. More importantly, the failure from the program means she is ineligible for it in the future.
For more information about sentencing issues, please click on the following articles:
AB 2124 - The New Pilot Program for Diversion of First-Time, Low Level Offenders in Los Angeles County Only
Contact us.