What's a Crime of Violence for an Enhanced Federal Sentence?
In federal court, sentencing follows a methodical, some would even say objective calculation under the United States Sentencing Guidelines. There is often some uncertainty over how a defendant's prior state court conviction should be classified and then how it affects sentencing enhancements. Sometimes, the results can be counterintuitive.
What One Should Learn from This Article: A conviction for commercial burglary under the pre-Prop 47 Penal Code § 459 is not a crime of violence to qualify one for a "crime of violence" federal sentence enhancement.

The 2013 case of Marco Hernandez-Lara epitomized this issue. Mr. Hernandez-Lara was convicted of illegal reentry to the United States under 8 U.S.C. § 1326. Years before, in 2009, he was convicted of felony commercial burglary under Penal Code § 459. Under U.S.S.G. § 2L1.2(b)(1)(C), there are eight-levels of enhancements for someone convicted of illegal reentry if "the defendant previously was deported, or unlawfully remained in the United States, after . . . a conviction for an aggravated felony."
Section 2L1.2 states that an "aggravated felony" is defined by 8 U.S.C. § 1101(a)(43), which includes multiple offenses. One of these offenses is a "crime of violence (as defined in Section 16 of Title 18)" 8 U.S.C. § 1101(a)(43)(f).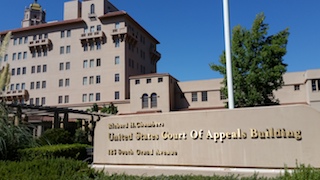 U.S. Ninth Circuit Court of Appeals Pasadena
In the original sentencing of Mr. Hernandez-Lara, the Assistant U.S. Attorney assigned to the case argued that commercial burglary, Penal Code § 459, qualified as a "crime of violence." "A crime of violence" under § 16(b) is defined as an "offense that is a felony and that, by its nature, involves a substantial risk that physical force against person or property of another may be used in the course of committing the offense."

U.S. District Court judge Edward J. Davila disagreed and then sentenced Hernandez-Lara to 24 months of incarceration.
The U.S. Attorney's then filed its appeal in the United States Court of Appeals for the Ninth Circuit. After the appeal was filed, a decision was reached in Dimaya v. Lynch (9th Cir. 2015) 803 F.3d 110. In Dimaya, the federal court ruled that the definition of a crime of violence under 18 U.S.C. § 16(b) is unconstitutionally vague.
In addition, after the appeal was filed, but before Dimaya was decided, the U.S. Supreme Court decided Johnson v United States (2015) 135 S.Ct. 2551. Johnson held that language similar to § 16(b), the Armed Career Criminal Act's so-called "residual clause" and its definition of a "violent felony" is also unconstitutionally vague. Johnson at 2557.

The "residual clause" defined a "violent felony" as "any crime punishable by imprisonment for a term exceeding one year . . . that . . . is burglary, arson, or extortion, involves use of explosives, or otherwise involves conduct that presents a serious potential risk of physical injury to another."
Dimaya relied upon Johnson in its ruling, meaning the Ninth Circuit specifically endorsed and followed Johnson. Consequently, the Court of Appeals affirmed the District Court's sentencing, but for reasons that arose only after the sentencing took place.
We find this ruling good although we do not know the value of the items Mr. Hernandez-Lara allegedly stole. Indeed, felony commercial burglary in the context within which we most often see it, is sometimes really misdemeanor shoplifting (now under Penal Code § 459.5 under Prop 47) or used to be shoplifting for a fourth or more shoplifting conviction. Shoplifting now is always a misdemeanor as long as the value of the items stolen is $950 or less (and the individual is not personally disqualified from application of Prop 47, i.e. he or she is not a registered sex offender) and often does not involve a shop owner or anyone else fighting to prevent the theft of something.

In contrast, first-degree residential burglary is far more serious and dangerous and certainly should be considered a crime of violence as a violent felony (and it is a strike), as there is risk of physical injury when a residence owner seeks to confront the burglar.
If one is reading this summary in the post-Prop 47 era, the case has a lesson: it would be prudent for anyone with a prior conviction for violating Penal Code 459 as a felony (which is not uncommon for shoplifting cases in certain courts, especially for someone with a fourth or more such convictions) and facing a federal case to go to the state court and seek re-designation of that conviction as a misdemeanor.
The citation for the Ninth Circuit Court of Appeal ruling discussed above is United States v. Marco Hernandez-Lara (9th Cir., 2016) 817 F.3d 651.

For more information about sentencing in federal court, please click on the following articles:
Contact us.