What Is Vehicular Homicide (California PC 192(c))?
Being charged with vehicular homicide usually creates questions of, since someone died, why not murder? Why not vehicular manslaughter? Why is this a criminal case at all? What is the punishment involved? All of these questions are good and, without answers, still reveal the subtleties in our laws here in California.
The Reader's Digest Version: Vehicular homicide, a violation of Penal Code § 192(c), is a felony, with a punishment of two, three or four years in state prison before any enhancements apply. The offense can also be charged as assault with a deadly weapon, with the weapon being a car. Probation is possible, depending upon the facts and defendant's prior criminal history, if any.

As one may suspect, there is a distinction between homicide and manslaughter. Homicide is defined as the intentional or deliberate illegal killing of another human being. It is also often simply known as murder, but when a vehicle is involved, it is defined under Penal Code § 192(c), "Vehicular Manslaughter."
Manslaughter is also the killing of another human, but generally not with the prior intention to so. Under Penal Code § 192(c), however, such conduct can be "gross negligence" and thus called vehicular homicide. This level of negligence is extreme negligence, far from the negligence we associate with someone doing a bad parking job and accidentally tapping another vehicle with one's vehicle and causing minor car damage.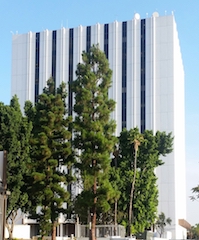 Compton Courthouse
Gross negligence is commonly associated with consuming a significant amount of alcohol and then driving in an extremely reckless manner, such that it can be assumed the driver had no respect for human life. This is also commonly referred to as having "implied malice." Such conduct raises the underlying conduct above manslaughter to homicide.
When the driver has a prior DUI, yet drives while intoxicated again and had been previously made acutely aware of the dangers associated with driving while intoxicated, the prosecutor can bring charges of murder instead.
People v. Watson
(1981) 30 Cal.3d 290. If the jury finds that the driver had a conscious disregard for human life, it can convict the driver of murder.
Because of this dangerous cliff over which a defendant can fall with a second or more DUI and a loss of life, it is hugely important to know the defenses which might credibly apply. These can apply even if alcohol is not involved, but the driving is extremely reckless.
After all, a conviction for murder (which is not the subject of this article) carries with it a significantly longer sentence than vehicular manslaughter, which can be just two, three or four years, and maybe even involve probation.
The defenses that can apply are self-defense (necessity), defense of another, causation and simply disputing the speed and credibility of witnesses.
Self-defense might be that one used the automobile to hit another person pointing a gun at them, or that one drove it an extremely reckless manner to prevent a passenger from killing him or her. It may be that a passenger pulled a knife on the driver and the driver quickly turned the steering wheel to cause the passenger to lose balance. There might have been a fight ongoing inside the car before the driver collided with an innocent pedestrian or other driver.
Defense of another means that the driver was using the automobile to prevent greater harm to another person, most commonly a family member. This might mean rear-ending someone at high speed or sideswiping another car, resulting in death to another person.
Causation is often not seriously challenged, but in a rare case, perhaps involving a multi-vehicle accident where our client does not directly collide with the decedent's vehicle, it may be argued that the death was more due to someone else. An example of this might be where a very drunk driver on the freeway is speeding and does not stop quick enough to avoid a collision, but there is at least one car in between our client's car and the decedent's vehicle. For example, our client may be braking furiously, just above the threshold of skidding, and another driver makes an unsafe lane change in front of our client, resulting in an unavoidable accident that propels the lane changer into a third car, killing the occupant. Since our client is drunk and may have a prior DUI, the police simplistically assign 100% fault to our client when in fact the death would have taken place regardless of whether our client was sober or not because of the intervening negligence of the lane changer.
In looking at such facts, it can be extremely helpful to hire an accident reconstructionist to independently evaluate skid mark lengths, crush damage and even the vehicle's black box, if it exists, to analyze closely what happened and challenge the often simplistic conclusions in the police report.
For more information about manslaughter and reckless driving in general, please click on the following articles:
Suspect's Fifth Amendment Rights Not Violated When He Volunteered Statements About His Killing Another
Contact us.