What Is the Sentenced Offender Drug Court (SODC)? Diversion?
There is no doubt that anyone with a history of drug abuse and addiction faces an uphill battle to sobriety. There is a physical addiction and a mental addiction to the relaxation or escape that drugs provide. Putting the person is prison is usually not the way to win such a battle, but the illegal conduct nevertheless cannot be enabled or left unpunished, as public safety and deterrence of others remain important.
The Gist of This Article: The Sentenced Offender Drug Court (SODC) is an intense, highly-structured five year formal probation court-supervised program wherein a drug offender's rehabilitative efforts are ordered and monitored to help the offender have accountability in his or her efforts, which can greatly help the success of the offender in overcoming the use of drugs. The underlying crime does not need to be a drug crime, however, the individual must have a history of drug use.
For someone facing an indicated state prison sentence from a judge, the Sentenced Offender Drug Court (SODC) seeks to find a middle ground, perhaps a compromise, between state prison and simple rehabilitation to address both society's need to enforce its laws and the drug abuser's need to get clean and sober.
To be eligible for the SODC, one must plead guilty to a non-serious or non-violent felony or admit a felony probation violation. The crime does not necessarily have to be drug related, but the individual must have a history of drug abuse and addiction that dominates his or her life and causes the repeated criminal activity. The individual must face state prison, usually not because of the current or more recent offense, but because of his or her criminal history.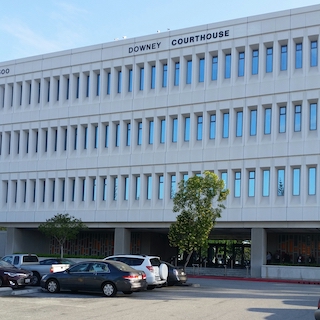 Downey Courthouse
Most importantly, the offender must have a sincere desire to leave behind the abuse of drugs and addiction and become clean and sober. This is necessary because the SODC program is intense. Overall, it is five years of formal probation, although early termination is possible at 2.5 years.
The program begins with a mandatory 104 days in the Los Angeles County treatment pod as part of a highly structured twelve to fifteen-month program. Women in the program will then transition to a residential living program after the jail, whereas men in the program transition to a sober living and outpatient treatment program after the jail treatment pod.
Both men and women are thereafter subject to regular drug testing and frequent court appearances for progress reports in Department 42 in the Downtown Los Angeles Courthouse. Judge Michael Tynan is the judge in 42. He runs several other alternative treatment programs from his courtroom, including Veterans Court, Drug Court and the Second Chance Women's Re-Entry Court. He is universally respected for his hands-on, empathetic approach to each program participant.
Once in outpatient treatment, both men and women will receive job training and independent living skills to transition back into society with new job and life skills. Living skills include learning how to prepare a budget, buy proper groceries, how to pay utility bills and becoming involved in wholesome volunteer activities.
The SODC is a popular program in Los Angeles County, but limited to 100 participants at a time. It is almost always at full capacity. Part of its popularity is that it accepts participants who are considered medium to high risk drug offenders, something that many other programs do not.
However, one is ineligible for the program if one has any prior conviction for a strike offense or sales of a controlled substance. One also cannot have any history of violence or the use of weapons, although there are limited exceptions to this rule. Certain medical or psychological diagnoses may also prevent participation. Indeed, the first step in the program is the county jail drug treatment pod, which is intensive. One also cannot be classified as an active gang participant.
After a participant has graduated from SODC and remained drug free for one year, he or she can petition the court for expungement of the conviction that led to the program.
For more information about sentencing issues, please click on the following articles:
Diversion Programs in California for Armed Forces Veterans
Contact us.