What Is Sales to Minors – for Alcohol? For Tobacco?
The term "Sales to Minors" can have two connotations. It either refers to a person who buys alcohol or sells tobacco to someone who is not old enough to have it. For alcohol, this includes anyone in California under 21, so not just minors (under age 18). For tobacco, as of June 9, 2016, this applies to anyone under 21 (no longer just 18), except active duty military personnel.
In a Nutshell: Sales of alcohol or tobacco to a minor is a more serious crime than many of our clients realize. A minor is someone under age 21, not just 18. The maximum penalty is a $1,000 fine, plus penalties and assessments (total of about $4,200) and 24 hours of community service at a county morgue or alcohol treatment center.

Anyone who buys for or furnishes alcohol to a minor is subject to prosecution under Business & Professions Code § 25658. This is a misdemeanor. We find people often get trapped in sting operations (usually called Operation "Shoulder Tap") near high schools, or near areas where minors like to congregate like near the beach. This is a strict liability offense, meaning the defendant does not need to have criminal intent, i.e. knowledge that the person being provided or purchased alcohol was under 21.
The penalty is especially harsh – a maximum fine of $1,000, plus penalties and assessments (meaning about $4,200 total) and 24 hours of community service at a county coroner's office or an alcohol or drug treatment facility.
Legally, there is no defense to this offense if the one receiving the alcohol is under 21. However, most prosecutors will entertain a defense that the purchaser or provider honestly and reasonably believed that the recipient of the alcohol was 21 or older. That could mean that the recipient states he graduated from high school five years earlier, states he or she is a college graduate (four-year college), or even shows the buyer his or her identification suggesting he or she is 21 or older.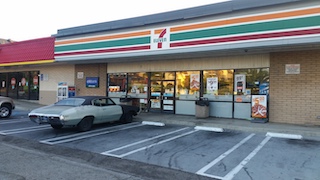 7-11 Storefront
The prohibition of selling tobacco products to anyone under age 21 includes e-cigarette and "vape" products. California, incidentally, is only one of two states to raise the legal age for tobacco to 21 (Hawaii is the other state). The laws, at Penal Code § 308 and Business & Professions Code §§ 22950-22963 (the STAKE (Stop Tobacco Access to Kids Enforcement) Act), affects approximately 34,000 retailers (mostly liquor stores and specialty smoke shops) statewide.
Such liquor store, tobacco shops or vape shops must check the ID of anyone seeking to buy a restricted product if the person reasonably appears to be under 21.
Tobacco products include cigarettes, cigars, pipe tobacco, snuff, chewing tobacco, dipping tobacco or any product that is prepared from tobacco and intended for human consumption in any manner (smoked, dipped, ingested, heated, chewed, inhaled, snorted or sniffed). The prohibition extends to products used to ingest tobacco such as cigarette papers or wrappers, blunt wraps, pipes, cigarette rolling machines and holders of tobacco products.
If a retailer does sell any of these products to someone who is in fact under 21, but reasonably relied upon identification of the buyer that was demanded and shown to the retailer, may be able to defeat the criminal complaint. The form of ID shown must be a generally accepted form of identification such as a driver's license or other government issued identification card.
If the retailer cannot show this, he is subject to a civil fine of $400 to $600 for a first offense (the person under found in possession of such items is subject to a fine of $75 or must perform 30 hours of community service). If there is a second offense within five years of the first offense, the fine increases to $900 to $1,000 for the retailer. For a third offense within five years, the fine increases to between $1,200 to $1,800. For a fourth offense within five years, the penalty increases to between $3,000 and $4,000. For a fifth and each further offense within five years, the penalty increases further to $5,000 to $6,000.
For more information about minors in possession of alcohol or even DUI under age 21, please click on the following articles:
Contact us.