What Is Possession of Drug Paraphernalia (H & S 11364)?
Were you charged with possession of drug paraphernalia or do you know someone who was? What is the punishment? What does the law define as drug paraphernalia and are their allowances for someone who has such items for valid medical use(s)? What must the prosecution prove to win a conviction?

The Gist of This Article: Possession of drug paraphernalia means having in one's control (actual or constructive possession) an opium pipe or anything useful in ingesting a controlled substance such as a needle, syringe, a crack pipe, rolling paper or cocaine spoons, but does not include a marijuana bong. It is a misdemeanor punishable by up to six months in county jail and/or a $1,000 fine, however, probation or diversion may be possible.

Possession of drug paraphernalia is a misdemeanor, set forth at Health and Safety Code § 11364. The maximum penalty includes six months in county jail and a $1,000 fine. However, when the defendant is a first-time offender, it is not unusual for the prosecution or the judge to resolve the matter with defendant being given the opportunity to "earn a dismissal" by enrolling in and completing a drug treatment program. This may be critical for someone who faces losing a professional license and/or a job.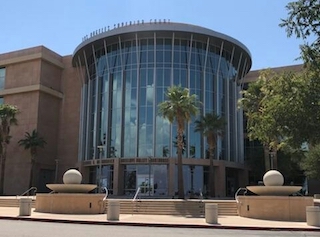 Lancaster Courthouse
If one faces immigration issues as a result of a conviction, it is wise not to enter into a "no contest" plea because such a plea is viewed as a conviction under Immigration and Naturalization Act § 101(a)(48)(A). Such a plea will be considered a conviction. Whenever there is a guilty plea, finding of guilt, or admission of sufficient facts to make a finding of guilt, and some form of punishment is imposed, the immigration court will consider this a conviction. Punishment for purposes of this definition includes any "restraint on liberty," which can be as minimal as attending classes, performing community service or paying fines, which is exactly what diversion usually involves.
Under this code section, there are three parts that are worth understanding. First, in subsection (a), it defines the crime as having an opium pipe "or any device, contrivance, instrument or paraphernalia used for unlawfully smoking or injecting a controlled substance" as defined in the Health & Safety Code or is a narcotic listed under Schedule III, IV or V (heroin, PCP, cocaine, meth, i.e.). Such "devices" can include needles, syringes, a crack pipe, rolling paper or cocaine spoons.

It does not include a marijuana "bong" because marijuana is not opium or a narcotic listed under any schedule. There are separate Health and Safety Code sections that address the legality of having such items. It also does not include capsules for pills, balloons, scales, bowls used to mix drugs or lighters.

Possession can be actual, i.e. in one's coat pocket or backpack, or constructive, i.e. in an area over which one has control, like in the center console of a car.
Second, under subsection (b), it exempts hypodermic needles or syringes that someone may have in a container for safe disposal if the container meets state and federal standards for safe disposal.

Third, under subsection (c), it exempts anyone with syringes or hypodermic needles if acquired from a physician, pharmacist, hypodermic needle and syringe exchange program or "any other source authorized by law."
Defenses to this offense most commonly involve a claim that the defendant did not know that such objects were present. The "I did not know" or "I had no idea" defense, however, must be credible. We have had several clients arrested with such items in their pants claim that they were wearing someone else's pants and did not know what was in the pockets.

The second defense is that one's possession of the items was legal, i.e. the person was diabetic and the needles were legally obtained from one's physician.
The third defense is two-fold. Either you were a victim of an unlawful search and seizure by police, a Fourth Amendment violation, or an ex-girlfriend, ex-boyfriend, ex-wife or ex-husband or other enemy stashed the items in your house or car to cause you to be arrested. We find this situation happens with some regularity during contested divorces or child custody proceedings.

The fourth defense is toughest. It is that the item is not used to inject or smoke a controlled substance. This can mean that the pipe, which looks exactly like a crack pipe, is actually used to smoke marijuana or tobacco. It can also be that the needles or syringes are used for veterinary purposes, for example.
For more information about issues common to drug offenses, please click on the following articles:
Is It Illegal for the Government to Use an Informant with a Lengthy Criminal History in a Drug Investigation?
Suspected Ecstasy Drug Trafficker Successfully Challenges Search of His House Based on Faulty Search Warrant Affidavit
Contact us.