What Is Molestation of Child Under 18 (PC 647.6)?
If you are being charged with molestation of a child under 18, you probably have a good idea of what the crime generally requires because you may have had contact with the police already. If you are a family member of the defendant, you may be shocked by the allegation and want more information on what type of conduct is required for a conviction and what punishment is involved.
Summary in 50 Words or Less: Molestation of a child under age 18, a violation of Penal Code § 647.6, can be a misdemeanor if charged as a violation of 647.6(a) and it requires registration as a sex offender. Otherwise, it is charged as either a felony or misdemeanor under Penal Code § 647(b). If a felony, punishment can be up to three years in state prison before any sentencing enhancements apply. Consent from the child is not a defense.

Penal Code § 647.6 is the least serious of the types of charges that can involve a sexual offense with a child. In fact, when it is charged in the initial complaint, our client often remarks that the conduct at issue was not sexual at all. This may be because there never was skin to skin contact or the touching was merely the first part of a series of steps toward skin to skin contact in a sexual manner.
Other times, when the client is first charged with something far more serious, such as statutory rape (Penal Code § 261.5) or lewd and lascivious conduct with a child (Penal Code § 288), the complaint is amended to allege Penal Code § 647.6(a), which can be a misdemeanor and does not require registration as a sex offender for life (Penal Code § 290).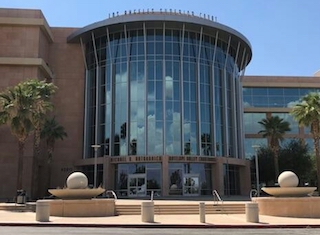 Lancaster Courthouse
Penal Code § 647.6 prohibits several types of conduct. First, it prohibits conduct that "annoys or molests" any child under age 18. This is § 647.6(a) and it is a straight misdemeanor, punishable simply by a fine of up to $5,000 and up to a year in county jail. Probation is certainly possible, but if probation is granted, the judge is mandated to assign counseling unless the judge thinks it would not be effective. Such counseling could be with sexaholics anonymous, sexual compulsiveness awareness or any other type of counseling that the judge finds appropriate.
The second type of conduct that § 647.6 prohibits is the type of conduct we often see in "Dateline" stings, wherein a vice crimes unit will post on the Internet a profile of a person interested in "meeting people." The suspect will contact the person and after a while, the decoy will disclose that she or he is under 18. The suspect or the decoy will then change the context of a meeting to one for purposes of having sex and the suspect will then agree to meet the decoy somewhere. The suspect will then be arrested as he walks into a bookstore or tries to meet her (or him) at a coffee shop. The suspect may have condoms in his pockets or other items.
This type of conduct is often charged as a felony under other code sections, but it can be charged as a misdemeanor under § 647.6(b). It is, according to Penal Code § 647.6(b), conduct that is "motivated by an abnormal or unnatural sexual interest in children," which if directed at a person under 18, would annoy or molest the child.
When the suspect has a prior conviction for violating § 647.6(a) or (b), a second case involving the same illegal conduct is always charged as a felony. When this happens, the punishment is a minimum of two years in state prison, to a maximum of six years in state prison. A felony-level violation of § 647.6 can also be charged if the defendant has a prior conviction for certain sex offenses involving a minor under sixteen or a case involving child pornography with a child under 14.
It is hugely important to understand in such cases that the consent of the child, even if through a police officer posing as a child (i.e. in an online Internet chat room), is meaningless and not a defense because a person under 18 cannot legally consent to sexual contact.
This section of the law is often a favored section for plea bargaining because the defendant may be able to resolve the case for a misdemeanor without having to register as a sex offender, but the prosecutor and judge can rest somewhat assured that counseling will resolve the poor judgement at issue.
For more information about sex offenses in general, please click on the following articles:
Defendant's Admission of Committing Sexual Abuse of Stepdaughter, Stated to Psychotherapist, Is Not Protected from Disclosure by Psychotherapist-Patient Privilege
Contact us.