What Is Escape (PC 4532(b)(1)) If One Is on GPS Monitoring?
The Gist of this Article: A violation of Penal Code § 4532(b)(1), escape from home detention, is a felony. In the following case, defendant left his house when he was ordered to be inside and then tried to re-enter, but his mom had locked the door. He was then found miles away from home. The conviction was upheld.

James David Allen agreed to comply with global positioning system (GPS) monitoring under an alternative custody agreement after he was convicted of a felony in Shasta County.
As part of his agreement to GPS monitoring, he was assigned to his mother's house and had to be within the house between 8:00 p.m., and 6:00 a.m. The Shasta County Sheriff's Department monitored him through an ankle monitor that Mr. Allen had the responsibility to wear and recharge each day.
Allen was at his mother's home at 2:36 a.m., on April 6, 2014. At some point before that, he and his mom got in an argument over Mr. Allen not cleaning himself, leaving dishes in the sink, and leaving paperwork lying around.
Defendant's mother told Mr. Allen that if he didn't like her rules, he should leave. Mr. Allen left. Mr. Allen's mom then locked him out the house.
Mr. Allen was later arrested for borrowing a car without the consent of the owner (Vehicle Code § 10851) and failing to return it.
The Shasta County District Attorney charged Mr. Allen with a violation of Penal Code § 4532(b)(1), escape. Section 4532(b)(1) provides in pertinent part that, "every prisoner…[who] is a participant in a home detention program pursuant to Penal Code § 1203.016… who escapes… from the place of confinement in a home detention program pursuant to Section 1203.016, is guilty of a felony."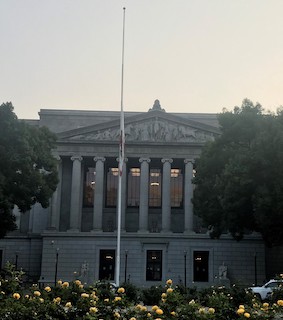 Court of Appeal Third Appellate District Sacramento
"An escape is an unlawful departure from the limits of an inmate's custody."
People v. Gallegos
(1974) 39 Cal. App. 3d 512, 515. "Specific intent to escape is not required."
Yost v. Superior Court
(1975) 52 Cal. App. 3d 289, 293.
Subdivision (e) of section 4532 also states that "[t]he willful failure of a prisoner… to return to his or her place of confinement no later than expiration of the period that he or she was authorized to be away from that place of confinement, is an escape from that place of confinement."
In Mr. Allen's case, he had to be within the house between 8:00 p.m., and 6:00 a.m. The jury then found Mr. Allen guilty of escape for leaving his mother's house at 2:36 a.m, as he voluntarily left. He had left the limits of his lawful custody at that time.
Mr. Allen appealed his conviction to the Third Appellate District. In its ruling, in
People v. James David Allen
(2016 DJDAR 11730), the appellate court evaluated Allen's claim that he did not commit an escape because he did not willfully fail to return to his place of confinement. Apparently, Allen argued that escape requires a refusal to return to the place of confinement.
The Third Appellate District characterized Allen's argument as a red herring. Allen's failure to return after he unlawfully left is "simply irrelevant; the escape was complete when he walked out of his mother's house."
Furthermore, his claim that he did not willfully fail to return to the house because "she insisted that he leave" and thereby "evicted" him from his place of confinement is based on a flagrant mischaracterization of the record.
Mr. Allen's mother testified that she gave him the option to stay if he complied with her rules. Mr. Allen chose to leave rather than clean up after himself. It did not matter if his mom locked the door after he had already escaped.
Moreover, he was not arrested sitting on the front door steps. Instead, police stopped him miles away driving someone else's car without permission of the owner.
While the facts of this case are a bit unusual, the case has valuable information for anyone on GPS monitoring with orders to be in a specific house or place during certain hours. The law on escape is strict and quite unforgiving.

The citation for the Third Appellate District Court ruling discussed above is People v. James David Allen (3d App. Dist., 2016) 6 Cal.App.5th 1.

For more information about house arrest, please click on the following articles:
Woman Who Allowed Parolee to Stay at Her House Is Guilty of Being an Accessory in Assisting a Parole Abscond from Supervision
Contact us.