What Is Co-Occurring Disorders Court (CODC)? Jail Involved?
Quite often, a person suffers from chronic substance abuse and mental illness. The skeptic or cynic may find the two ailments are causally connected, but this simplistic observation is not always the case. The two disorders can be unrelated in cause, but combine for a perfect storm to create a pattern of repeated offenses.
What One Should Learn from This Article: When one is being prosecuted for a crime that is strongly related to having two recognized mental or medical disorders, rehabilitation and recovery from the disorders must be part of the government response, while punishment is also considered in trying to prevent re-occurrence of the crime. The Co-Occurring Disorder Court in the Los Angeles County Superior Court's program for non-violent drug offenders who pass a mental health screening. It is a tough, rigorous program that lasts 12 to 15 months.
When such a person, affected by two disorders, faces prosecution for a non-violent offense, the courts recognize the demanding nature of trying to balance punishment with rehabilitation, while being sensitive to the real possibility that the two disorders will only land the individual back in court again very soon, hopefully without a victim of crime to pay the price.
Consequently, the Los Angeles County Superior Court has a program and dedicated court for individuals facing co-occurring disorders. The Co-Occurring Disorders Court (CODC) program is designed as an alternative for eligible adults to county jail with a purpose of reducing recidivism and reintegrating individuals back into the community (i.e. eliminate homelessness).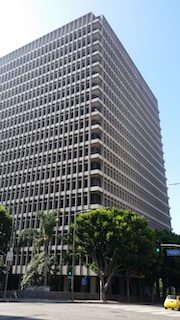 Clara Shortridge Foltz Courthouse
It is a noble program with lofty goals, but necessarily limited in scope, as someone accused of a violent crime is excluded. Instead, the program focuses on non-violent, drug related crime, such as possession of a controlled substance, minor property crimes such as vandalism and petty theft.
Someone who has repeated failed drug court and/or Prop 36 due to mental illness is eligible for the CODC program. Before anyone is accepted to the program, the potential participant must undergo a mental health screening.
The program was formed in 2007 and designed to help the downtown Los Angeles Skid Row population, many of who have severe mental illnesses and chronic substance abuse problems, but has since expanded without compromising its fundamental "drug court" approach. From 2007 until 2012, over 120 people enrolled in the program and of these, there were 47 people who graduated from the program.
There are approximately sixty people in the program at any one time, which lasts twelve to fifteen months. Each person accepted into the program must have a desire to change and escape the cycle of repeated contact with law enforcement that is common with those with co-occurring disorders of mental illness and substance abuse. Like being screening for the Delancey Street Foundation program, the applicant must have a sense of urgency about changing his or her life. Someone who is just looking to avoid jail will not be accepted.
Every person accepted for the program begins with a three-month residential stay at a Los Angeles County-owned and operated Antelope Valley Rehabilitation Center in Acton, out east of Santa Clarita and south of Lancaster. Following this, the program participant will move into a Department of Mental Health (DMH) Full Service Partnership (FSP) provider that provides further mental health treatment.
Each provider then has three phases of treatment based on motivation and compliance with court requirements of treatment, extended sobriety and demonstrated increases in behavioral and functional stability. Each phase of treatment is individualized to the participant's abilities and needs.
The judge supervising each participant is Judge Michael Tynan in Department 42 at the Clara Shortridge Foltz courthouse (also called CCB) at 210 West Temple Street in downtown Los Angeles. He is well-known as caring, but tough, too.
Participants who complete the whole program will go through an informal graduation ceremony in Department 42. They can then ask the judge for early termination of probation and expungement of the conviction under Penal Code § 1203.4.
For more information about alternative sentencing issues, please click on the following articles:
Contact us.