What Is Auto Insurance Fraud (PC 548-551)?
We all are familiar with the expensive advertisements for Geico Insurance, Farmers Insurance and State Farm on television. Their commercials dominate televised sports alongside commercials for cars, beer, pizza and fast food.
The Gist of this Article: Auto insurance fraud is any type of untruthful representation to an auto insurance company for purposes of increasing or strengthening one's claim for payment. It is a wobbler, but most such claims are filed as felonies. It is punishable by two, three or four years in state prison with a two-year enhancement if one has a prior conviction for the same offense.

The average person seeing such commercials appreciates the wealth behind a company that can pay for such frequent commercials. In contrast, most people live paycheck to paycheck. Their car payment and auto insurance payments are major monthly drains on their income.
It should come as no surprise then that when someone is in an auto accident in an insured vehicle; they realize money from the insurance company may be forthcoming to someone. Why not exaggerate the alleged damage? Why not increase the damage to make the claim bigger? Why not claim pre-existing damage is due to an accident when the accident actually caused no damage? Why not take it to a body shop owned by a friend, who will prepare an exaggerated repair estimate? Anyone have a baseball bat? Spray paint? Who would ever find out?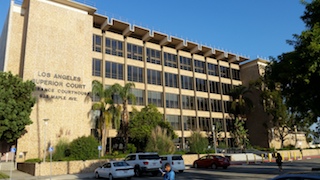 Torrance Courthouse
Why not make multiple claims for the same collision – after all the insurance company is so big that it probably will not even realize the duplication? Why not even stage an auto accident with someone else – how would anyone find out? Why not let your friend steal your car and then claim it was stolen to the police? After all, is not the insurance company supposed to replace the car? One could get a new car, right?
The answer to each of these rhetorical questions is because it is illegal under California law (and simply dishonest, too). Under Penal Code §§ 548 to 551, most forms of auto insurance fraud are felonies, although some are "wobblers," meaning the offense can be charged as either a misdemeanor or a felony.
Penal Code § 548 prohibits damaging, destroying, hiding or abandoning an insured car or other motor vehicle that is insured against loss with the intent to defraud the insurance company or even prejudice the insurance company in its investigation. The intent to defraud means the goal of deceiving the insurance company to cause it a monetary loss or damage to its financial or legal rights.
A prosecutor can file such a charge even if the suspect never files a claim, but damaged the car, for example, with the intent to later file an insurance claim for money.
The penalties for violating Penal Code § 548 can be two, three or five years in state prison and a fine of up to $50,000. Often the accused will have prior convictions for such fraud, meaning for §§ 548 to 550. When this is the case, there is a two year enhancement (addition) for each prior conviction for auto insurance fraud.
Penal Code § 550, in contrast, requires the suspect to damage, destroy or allow the theft of a motor vehicle and to then file a false auto insurance claim with the intent to defraud the insurance company. Section 550(a)(4) also prohibits submitting two or more claims for the same loss with the intent to defraud.
Section 550(a)(3) prohibits causing or participating in an auto collision with the intent to present a false claim to defraud an insurance company. A person who commits this offense also usually commits a violation of Penal Code § 550(b)(1)-(4) by then making written or oral statements as part of the claim to defraud an insurance company.
The penalties for violating section 550 are the same as for violating section 548. However, if one causes an accident for purposes of defrauding an insurance company, the fine is up to $50,000 or double the fraud, whichever is greater. If one has two prior convictions for auto insurance fraud by causing an accident, then there is a five year sentence enhancement. If someone causes a serious bodily injury in the accident, other than an accomplice, there is also a two year sentence enhancement.
What types of defenses exist to such charges? The most common defense is that the conduct at issue was a mistake and defendant had no intent to defraud the insurance company.
For more information about crimes involving fraud, please click on the following articles:
Contact us.