What Happens If I Made a False 911 Call? Jail? Prison?
It seems that our office is asked this question at least once per week. The caller may be calling about a domestic violence situation, vandalism, criminal threats, a violation of a restraining order or a sex case. For example, the caller may have committed vandalism, but wishes to direct police to investigate someone else who has a criminal history of tagging and who the police dislike.
The caller may also be making a false call about a fire, which is discussed several paragraphs below.
In a Nutshell: Making a false 911 call can be a very serious crime and is punishable under Penal Code § 148.5 as a misdemeanor. However, in certain contexts (particularly domestic violence), it is rarely prosecuted against the alleged victim. When a false 911 call is made about a robbery in progress or another type of crime, the caller can be responsible for restitution in expenses for the police, fire department and paramedic response. This type of 911 call, called "swatting," can be a felony.

California Penal Code § 148.5 makes it illegal to make a report of a crime (felony or misdemeanor), while knowing the report is false, to a police officer, district attorney or any employee designated to accept such reports (i.e. 911 operator). Making such a false report is a misdemeanor. The police officer must be acting in the role of a police officer or prosecutor when such a report is made, i.e. not at a party or off-duty. The person making the report must know that the person receiving the report is acting as a police officer or prosecutor at the time.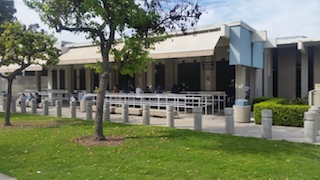 Westminster Courthouse
The defenses to such a crime obviously include a good faith belief that the report was true. The section also does not apply to "mandatory reporters," i.e. medical personnel who are required to report suspected instances of child abuse, dependent adult abuse or elder abuse.
The individual may also claim that he or she was just reporting an emergency, but this is itself a separate crime if the report was knowingly made of a situation that was not an emergency. The false report of an emergency is punishable under Penal Code § 148.3
The penalties to violating Penal Code § 148.5 and Penal Code § 148.3 are fairly straightforward –a fine of up to $1,000 (plus penalties and assessments that can add up to close to $4,500). In addition, a person found in violation of Penal Code § 148.5 may be sentenced up to six months in county jail, but someone found in violation of § 148.3 can face up to a year in county jail.
The penalties may very well also include restitution for the response costs and investigation expenses of a crime that obviously did not need to be expended but for the false 911 call (these expenses can rapidly reach several thousand dollars).
If one makes a false fire alarm, this is separately prosecuted under Penal Code § 148.4. This crime requires a higher level of criminal intent. The reporter must do so willfully and maliciously. A common context of this is a juvenile who dares another juvenile to pull a fire alarm and then the juvenile does so, not realizing the chain of events that are triggered. In some cases, wherein the caller does so repeatedly for the pleasure or entertainment value of seeing and hearing emergency vehicles with sirens responding, the conduct is called "swatting" and is very serious (recently this was charged against two individuals in the Torrance Superior Court).
The offense is a wobbler. This means it can be charged as a misdemeanor or a felony, depending upon whether there is great bodily injury or death to anyone in response to the false report of a fire.
If charged as a misdemeanor, the penalty is up to a year in county jail and up to a fine of $1,000 (which can be, with penalties and assessments, close to $4,500 in total payable to the court).
If prosecuted as a felony, the sentence can be up to three years in state prison and a fine of not less than $500 and no more than $10,000. In addition, the judge would normally order defendant to repay the county or state its emergency response fees as well as its investigative expenses, which can quickly reach several thousand dollars.
If any of these offenses are resolved with a grant of probation, the terms and condition of probation most likely would include a high number of days of Cal-Trans or community service.
For more information about contact with the police, please click on the following articles:
Confession Is Inadmissible When Probation Officer Promised Shorter Sentence If Probationer Waived Right to an Attorney
Contact us.