What Does It Mean to Be a Registered Arson Offender?
If one is convicted of certain offenses involving arson, the judge may order that the person register as an arson offender. What does this mean? Can you neighbors see this on the Internet? How long does this obligation last?
Brief Synopsis: Being a registered arson offender means one has his or her name on a list maintained by local law enforcement and he or she must report any change in address within ten days. The obligation lasts a minimum of five years, but usually is not lifelong.

The California Arson Registry is maintained by the same organization that maintains the Sex Offender Tracking Program in California. There are far fewer registered arson offenders, about 4,000, as compared to registered sex offenders, which number over 130,000.
The duty to register is reserved for anyone convicted of maliciously setting a fire to property (this may exclude vandalism by arson in certain circumstances), committing arson to cause bodily injury, arson of an inhabited structure of property, arson of a structure or forest land, attempted arson, possession of a device to commit arson and possessing or manufacturing a firebomb.
If one is in custody, i.e. jail or prison, for an offense involving arson, the Department of Corrections must give written notice of the impending release from custody. Under Penal Code § 11550, this notice is given to the State Fire Marshal and all police departments and the sheriff in the county where the person was convicted and if known, the county in which the offender plans to reside upon release.
Under Penal Code § 11152, the State Fire Marshall must then notify all regularly organized fire departments in the county of the impending release.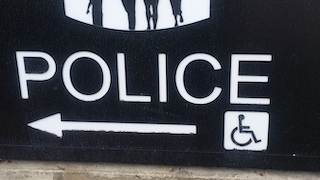 Police Station El Segundo
If the individual is being released from a State Hospital, the Department of State Hospitals must give the same notice to the State Fire Marshal.
Once the individual is in fact released, whether from a jail, prison or hospital, he or she must then register within 14 days with the law enforcement agency for the area in which he or she chooses to live. A failure to register is itself a crime carrying with it a mandatory minimum sentence of 90 days in custody to up to one year.
The obligation to register each year or when one changes residence is a lifelong obligation unless the crime was committed when one was a juvenile, or for certain crimes committed as an adult prior to November 30, 1994, the obligation is not life long and in some cases used to be just five years. Penal Code § 457.1. Some juvenile adjudicated to violate the arson laws must only register up to the age of 25.
As with a conviction for a sex offense that results in a lifetime obligation to register as a sex offender under Penal Code § 290, one can have a judge relieve one of the duty to register as an arson offender if one succeeds in receiving a certificate of rehabilitation.
The registry of arson offenders is not available to the public to see on the Internet like the Megan's law database for sex offenders is.
Many of our clients argue with us that arson is not so serious as a sex offense and that such a registration requirement is not related to public safety or monitoring, but is additional punishment and cruel and unusual, moreover.
.
While we agree that the crimes are fundamentally different, certain arson offenders do suffer from pyromania or have an abnormal psychology. For example, some arson offenders have used fire to terrorize others, to retaliate against others (including in the context of street gang crimes) and to commit crimes against places of worship. Some career criminals use it to destroy evidence at the scene of another type of crime. Some induce or solicit children to start a fire that then is used for insurance fraud (we had one client who committed arson to his own home twice, both times on Christmas Eve). Lastly, others commit arson to show control over others, i.e. those who start forest fires. In such contexts, arson is a very serious crime committed by a dangerous person and thus, our legislature has found a need to monitor the whereabouts of such people, especially during times when a suspicious fire takes place.
For more information about arson, please click on the following articles:
Street Terrorism Sentence Stricken When Defendant Already Punished for Underlying Arson and Criminal Threats
Contact us.