Voluntary Manslaughter and Heat of Passion Circumstances
Summary in 50 Words or Less: Murder conviction set aside because defense counsel and the judge did not offer jury a voluntary manslaughter jury instruction, either based on imperfect self-defense or heat of passion grounds.

In December, 2009, Fernanda Placencia hosted a birthday party for herself at her house in San Leandro. She invited many of her co-workers from Target in Hayward.
About forty people attended, most of who knew Placencia from work. Sione Manoa, who played football for his junior college, attended. He was about six feet tall and 235 pounds. Manoa worked as a security guard at Target. Placencia consequently asked Manoa to come to her party and make sure the party went smoothly. Manoa did not interpret this as a serious request and assumed he would go to the party, drink and have fun just like everyone else.
Jeremy Millbrook also came to the party with his girlfriend, Jennifer Diaz, a close friend of Placentia. Milbrook was 18 years old and, in contrast to Manoa, very thin. He was reluctant to go into the party because there were a group of men that hung out near Placentia's house who he had some type of ongoing conflict with. He told Diaz about his concerns. When they got to the party, instead of going in, the two sat in Milbrook's car and smoked marijuana. When they did go in, Milbrook brought a gun with him, he testified later, for his own safety.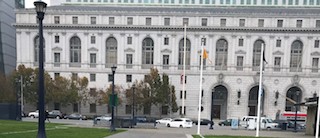 Court of Appeal First Appellate District San Francisco
At some point in the party, Diaz and Manoa argued about whether anyone should be inside Placencia's house. The argument escalated into swearing and loud yelling. Finally, Diaz told Manoa to leave the party. Manoa responded, "Fuck you, bitch. Don't talk to me like that. I'm not going anywhere." Manoa had been drinking at the party. Another partygoer testified that Manoa had drank three to four beers and one mixed drink.
Milbrook was inside the house at the time of the argument, waiting outside a restroom and hoping to use it. He did not like how Manoa had spoken to his girlfriend. Because Manoa was a big guy, Milbrook was concerned that Manoa would punch his girlfriend and injure her.
Milbrook therefore walked up to Manoa to address this. Manoa began talking on his cell phone. Milbrook overheard Manoa say "I've got my thing" and saw him clutch at his waistband. Milbrook interpreted this to mean he had a gun.
Milbrook finally had words with Manoa, asking him, "why the fuck you talk to my girl [Diaz] like that?" Manoa explained that Diaz had yelled at him. Manoa and Milbrook then started arguing and swearing at each other. Diaz stood by and then also began yelling at Manoa.
Manoa then seemed like he was going to fight the much thinner and smaller Milbrook. A witness said Manoa's shoulders were really tense and his hands were balled up in fists. His facial expression was upset and angry.
According to Milbrook, he felt surrounded as others poured into the small kitchen. Milbrook said he felt quite scared because he thought Manoa had a gun, based on his earlier cell phone call that Milbrook overheard. Diaz then came in to defend Milbrook and Manoa took a step toward her and said, "Shut the fuck up, bitch. This ain't none of your business." The argument continued to escalate and more of Manoa's friends came into the kitchen. Manoa then told Milbrook, "you better check your bitch," meaning keep Diaz quiet.
Finally, Milbrook lunged at Manoa and shot him. Everyone then scattered from the house. Manoa was shot in the chest and the bullet lodged in this spine. Milbrook and Diaz fled to Reno, Nevada, where they were apprehended.
At trial for attempted murder, Milbrook's defense was self-defense. The jury was instructed that Milbrook was not guilty of attempted murder if he acted reasonably in self-defense and that he was alternatively guilty of the lesser included offense of attempted voluntary manslaughter if he acted unreasonably in self-defense (imperfect self-defense)
See People v. Humphrey
(1996) 13 Cal.4th 1073, 1082.
However, Milbrook did not ask for, and the trial court on his own did not give a jury instruction that he was guilty of attempted voluntary manslaughter if he acted "upon a sudden quarrel or heat of passion" (a heat of passion instruction). (Penal Code § 192(a)).
The jury then convicted Milbrook of attempted murder, not attempted voluntary manslaughter.
Millbrook appealed, arguing the trial court committed prejudicial error by failing to instruct the jury on the heat of passion form of attempted voluntary manslaughter. He argued that trial courts have a duty "to instruct fully on all lesser necessarily included offenses supported by the evidence."
People v. Breverman
(1998) 19 Cal. 4th 142,148-149. He also argued that under
People v.
Mitchell
(1939) 14 Cal. 2d 237, 252-253, "heat of passion may be prompted by fear as well as by rage," and "provocation sufficient to produce heat of passion… may, under slightly varied circumstances justify a person killing in self-defense."
The First Appellate District, in
People v. Jeremy L. Milbrook
(2014 DJDAR 208), agreed with Milbrook, reversing the attempted murder conviction and ordering that he be retried with the correct jury instructions.
We think this case is significant for anyone defending an attempted murder or even murder case to do everything possible (and reasonable) to present evidence that imposes a duty upon the judge to include voluntary manslaughter jury instructions, whether under self-defense or heat of passion grounds.
The citation for the First Appellate District Court ruling discussed above is People v. Jeremy L. Millbrook (1st App. Dist., 2014) 222 Cal.App.4th 1122.

For more information about manslaughter, click on the following articles:
Contact us.