Violating Home Detention Rules Can Be a Felony Escape
House arrest or electronic home monitoring is truly a good arrangement for someone who needs to work or needs to care for a dependent child or adult. If the probation department approves, a person on house arrest may be permitted to go to and from work to continue working.
In a Nutshell: A violation of one's home detention rules, including the failure to return home within any authorized time allowed to attention work away from home, can be charged as felony escape. If one gets in a car accident while DUI during hours authorized for work away from home, that can be felony escape.

Jerad Marshall Ports was sentenced in Butte County to a three year sentence and permitted, under the Butte County Sheriff's Office Alternative Custody Supervision (ACS) to live in an apartment and leave for approved activities. The ACS program, authorized under Penal Code § 1203.016, allowed him to go directly to his landscaping job at various job sites, but to return immediately and notify the program when he returns.
Potts had to wear a GPS ankle monitor and was prohibited from possessing alcohol in his blood. When Potts agreed to such terms, he signed a contract that acknowledged any violation of the terms could be charged as felony escape under Penal Code § 4532(b)(1).
One day, Potts was authorized to work from 8:30 a.m. to 5:30 p.m. On this day, he was recorded on his GPS device as being at the job site from 3:00 p.m. to 4:39 p.m. A minute later, he was monitored leaving the site and driving north bound toward his home. A minute late, however, he was seen proceeding southbound away from his home.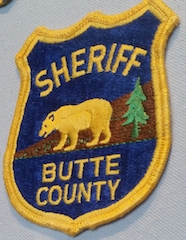 Butte County Sheriffs
While driving away from his home, he crashed his car into another car in the middle of an intersection. After the collision, Potts fled the scene and went into a nearby residence. He was later found a quarter mile away. About an hour later, his blood alcohol content (BAC) was measured at 0.22%. Potts admitted to driving and said he fled the scene because he was scared.
Potts was arrested at 5:26 p.m. for felony escape under Penal Code § 4532. The case went to jury trial. The jury was instructed on escape by being told "escape means the unlawful departure of a prisoner from the physical limits of his or her custody."
Potts requested an additional instruction that said, "[a] prisoner also escapes if he or she willfully fails to return to his or her place of confinement within the period that he or she was authorized to be away from the place of confinement. Someone commits an act willfully when he or she does it willingly, or on purpose."
Potts cited
Yost v. Superior Court
(1975) 52 Cal. App. 3d 829 in support of his request. In
Yost
, the appellate court held that Mr. Yost had not escaped when he was on work furlough from jail and failed to report for work and was later arrested for robbery in another city before he was due to return to jail. The robbery charge was dismissed, but the arrest had prevented Yost from returning to jail on time.
The appellate court held that a conviction for escape was imposed because Yost did not have the criminal intent of willfully failing to return to jail.
According to Potts, he was authorized to leave his home and he did not fail to return to his home before expiration of the time he was authorized to be from home. His arrest at 5:26 p.m., four minutes before the 5:30 p.m. deadline.
The trial court denied his request for such a jury instruction and Potts was convicted. He was then sentenced to an eight-month term on the escape charge and four more years on the underlying case for which he was originally placed on home detention.
Potts appealed his conviction, but the Third Appellate District denied his appeal, affirming the underlying ruling.
In its opinion, in
People v. Jerad Marshall Potts
(2016 DJDAR 5257), the appellate court concluded that the instructional error, if any, was harmless. The court noted that when the collision took place, Potts was driving away from home, not "directly" and "immediately" home as he had promised as a condition of the home detention program.
In addition, after the traffic accident, he fled the scene, which the appellate court held established that he willfully failed to return home within in period he was authorized to be away from home. This was so even before he was arrested for the hit and run or DUI.
The appellate court further commented that Penal Code § 1203.016, which permits home detention, suggests that the time when Potts should have returned home was the time necessary to drive immediately and directly home and no later, not whatever time (5:30 p.m.), that was described earlier as a default time for returning home. Otherwise, if Potts had ended work at 2:00 p.m., using Potts' logic, he would be free to frolic until 5:30 p.m. and not violate the program guidelines just as long as he returned home by 5:30 p.m. Such a practice, condoned by the court, would undermine the whole purpose of the home detention program as an alternative to jail or prison.

The citation for the Third Appellate District Court ruling discussed above is People v. Jerad Marshall Potts (3d App. Dist., 2016) 247 Cal.App.4th 1167.

For more information about house arrest (home detention), please click on the following articles:
Contact us
.