Van Nuys Prostitution Arrest, Police Sting, PDP, Dismissal
Our client, age 31, was driving on Sepulveda Boulevard, coming home from a very late shift at work. It was 2:30 a.m. As he approached Haynes Street, he noticed a woman walking back and forth along the sidewalk there, near the Carl's Junior.
She was dressed in a purple jacket, black and white top, black pants and black shoes. Our client slowed down his car and rolled down the passenger side window. He first told the police decoy, "you are looking awful fine tonight." The decoy responded by saying, "thanks, you look pretty good, too."
In 50 Words or Less: Client ticketed for solicitation of prostitution in police sting in Van Nuys along Sepulveda Boulevard near Carl's Jr. Client has prior criminal history, which would otherwise disqualify him from diversion, but prosecutor offers diversion after Greg discusses the case facts. Client offered and accepted diversion with the PDP.

Our client then asked the decoy, "Are you cop?" The woman responded, "Hell no. I just got arrested last week." Our client then asked her if he could touch her breast, to which the decoy said, "That will cost you." Our client then asked, "How much?" The decoy then said, "Well, what do you want." Our client said, "Everything, sex – and I have money." The decoy said, "O.K., forty dollars, deal?" Our client answered, "Sounds good." The decoy then instructed our client to pull forward toward the curb about 40 feet away.
As our client was pulling forward, but before he could come to a stop by the curb, a police car pulled behind our client to make the arrest.
The Van Nuys vice unit arrested our client at the corner of Haynes and Sepulveda. Our client had $200 in his pants pocket.
The police did not transport our client to the police station. Instead, they issued him a ticket for violation of Penal Code § 647(b), solicitation of prostitution. Our client signed a promise to appear in the Van Nuys Superior Court in about six weeks and was released.
Four weeks passed and our client did nothing. Finally, he called a few attorneys, eventually hiring Greg Hill & Associates.
Greg and the client discussed the case facts and Greg explained what he thought was the best defense – that the client did not complete a substantial step toward committing the crime by pulling forward and stopping. Greg had seen prior cases dismissed where a client has such a conversation with a police decoy and then pulls forward only to continue driving away. Our client never got that chance to pull away, or stop as instructed.
Greg also explained what the Prostitution Diversion Program (PDP) was and how this was the program of choice for first-time prostitution suspects, if the defendant had no prior history of being granted diversion in the past. The client told Greg he had no prior criminal history.
Greg then appeared in the Van Nuys Superior Court and found out our client did have a prior criminal history for a violation of Health and Safety Code § 11359, a felony, for sales of marijuana six years earlier (now a misdemeanor under Prop 64). For some prosecutors, this is a disqualifying offense for the PDP, although it has nothing to do with a sex offense or prostitution.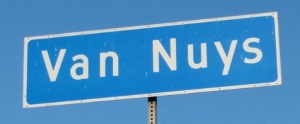 Greg then spoke with the prosecutor, who began to tell Greg that she did not know if our client was qualified for the PDP. Greg then explained that he thought the case facts were weak towards establishing a "substantial step" being committed by our client, as even the police report did not state our client completed the instructions by the decoy to pull forward and stop.
Instead, the police swooped in behind our client too fast, before he could even drive the 40 feet of so.
The prosecutor reluctantly agreed that this was so and offered our client the PDP. Under this program, our client will be able to earn a dismissal of the case if he attends a one day program about prostitution, submits to an HIV / AIDS test at the program, brings documentation of completing both these things to court at a future date, and stays free of trouble for a year.
Moreover, if our client does successfully complete the above, the case will be dismissed with an order that the arrest report and the record of the arrest will be sealed under Penal Code § 851.8(d), to prevent curious neighbors or girlfriends from looking at the report.
Our client was happy with this outcome and the way in which Greg was able to keep the case headed for the PDP and dismissal when the prosecutor expressed doubts about whether our client was qualified.
For more information about prostitution, please click on the following articles:
Contact us.