Trial, Long Beach, Public Urination Case Dismissed
Our client, a competitive bodybuilder, had gone out with his friends to a Pine Street pub in Downtown Long Beach. Because of his diet as a bodybuilder, our client did not drink alcohol. He did, however, drink lots of water and even Diet Coke while his friends consumed several pitchers of beer.
In a Nutshell: Ticket issued for client urinating in the Pine Street area of Downtown Long Beach; offer is to resolve the case as an infraction with just a $25 fine, but we set it for trial because the officer truly could not have seen our client actually urinating. The officer did not show up for trial, so the case was dismissed.

It was 1:00 a.m. and the group decided to call it an evening. Our client and his friends were walking back to their cars when our client realized he needed to urinate.
The parking lot was bordered by an alley way with several large dumpsters along its edges. Our client decided to jog over to one and urinate behind it.
Our client's jogging must have caught the eye of a police officer patrolling the alley. The officer obviously watched our client as he came to a stop, fiddled with his fly, stood for twenty seconds or so in a manner that is common for people urinating, zipped up and jogged back toward his car.
As our client was jogging back, an officer stopped him and asked our client if he had just urinated. Our client was dumbfounded, as he quickly knew that a ticket was a potential next step. Our client responded with "um. . . ." The officer, instead of berating him or becoming sarcastic, simply took out his ticket booklet and began writing a ticket for violation of Long Beach Municipal Code § 9.25.010, "public urination."
The police officer did not even talk about the alleged public urination with our client. Instead, he discussed our client's bodybuilding physique and asked him how much he could bench press.
After all, the officer never went over to the area near the dumpster to verify the ground was wet from urine and never perceived a stream of urine coming from our client.
Instead, he simply issued the ticket and walked away.
Our client was extremely upset about this and called Greg Hill & Associates the following day. Greg listened to the client explain what had happened and how the officer would likely testify to seeing something happen that had only one likely explanation.

Greg then explained how such cases are resolved in the Long Beach Courthouse, but commented that the judge now handling such cases had recently been transferred to another department.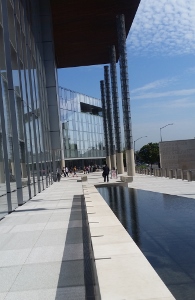 Long Beach Superior Courthouse
Greg then appeared at the Long Beach Courthouse for the arraignment. The client stayed at work (in the gym). The judge called the case and offered to resolve the case for an infraction with just a $25 fine, plus penalties and assessments (total of $224).
Greg responded by asking the judge to set the case for trial instead, which the judge did for a date about four weeks later. Greg did so because he knew that the officer, if he recalled the facts, would not be able to testify that he saw our client urinating. From afar, it was equally likely that our client was merely looking down at his I-phone or scratching himself in a private location out of view of others.
As it turned out, on the day of trial, the officer who would have been the sole prosecution witness failed to appear in court.

The judge then called the matter for trial and asked for the officer to step forward to testify. The officer was missing. The judge then commented, "well, Mr. Hill, I think your client just got very lucky." Greg agreed and asked the judge to dismiss the case under Penal Code § 1385 "in the interest of justice." The judge agreed.
The client was extremely happy with this small victory, as he did not want any type of conviction, even for an infraction.
For more information about trial, public urination and the difference between an infraction and a misdemeanor, please click on the following articles:
Contact us.