Trespassing, Santa Monica, 5150 Hold, No Specific Intent
Our client, age 28, was struggling in life. She had graduated from a major four-year university and was employed full-time, but the demons of bulimia, depression and an anxiety disorder were getting the better of her.
She had experienced the escape that mixing prescription medication with alcohol could provide and knew it was unwise. However, it was a good way to relax fully from the building stress and anxiety she constantly felt.
Synopsis: Client, age 28, enters an apartment she thinks is her own. However, because she is under the influence of alcohol and prescription drugs, she does realize it belongs to someone else. She gets in bed and falls asleep. The true owner returns and calls the Santa Monica police, who take our client and place a 5150 hold on her. Greg contacts the handling detective, discusses the case and case declared a "DA Reject."

One Saturday afternoon, she took her prescription medication for her multiple ailments and then went to a bar at about 3:30 p.m. alone. She wanted nothing else but to relax.
Little did she know, but she would not return to her own bed for weeks.

After feeling "comfortably numb," she decided it was time to return home and go to bed early for the evening. It was getting dark.
Our client went to an apartment complex that she recognized as her own, but it actually was not hers. She had left her key in her apartment, so she waited for someone to enter or exit the main gate and then followed in.
She walked up the stairs and went to the unit she thought was her own. She was exhausted and ready to sleep. She opened the door (it was unlocked) and went to bed.
The real owner of the unit returned to her apartment for find our client in her bed, snoring. She called the Santa Monica police, who responded to the apartment and woke up our client. Our client was quite confused by what the officers told her and apologized profusely to the real owner, although insisting she meant nothing wrong by what she did.
The police officer suspected something was wrong, so he had our client put on a 5150 hold for 48 hours at Del Amo Hospital in Torrance. When our client did not respond well to the hospital, her two-day hold was extended to ten days.
Her father came out to California when his daughter was unresponsive to his phone calls. He was terribly worried about her and made a missing persons report to the police. The police notified him of his daughter's whereabouts, the events leading to her hospitalization, and what he could do.
The police recommended he retain a criminal defense attorney for his daughter, so he called Greg Hill & Associates. He met with Greg Hill the same afternoon and Greg listened to what the client could explain was the situation.
Greg quickly understood that trespassing, Penal Code § 602, requires specific intent. This means that the defendant must "willfully entering another person's property with the specific intent to interfere with the owner's property rights." The facts of the case, most notably the police officer's decision to commit our client for a 48-hour 5150 hold, suggested that our client lacked the capacity to form the specific intent to do anything. Our client's polite demeanor, apologetic even, but severe confusion, motivate the police officer to treat our client with respect and help her get the attention she needed.
Greg explained how it was better for his daughter, from a criminal defense perspective, that the officer made the evaluation at the time, that our client was mentally not functioning well.
Greg then contacted the handling detective and explained that the client was extended on her 5150 hold at Del Amo. Greg also explained how the family planned to send their daughter to Sierra Tucson in Tucson, Arizona, an inpatient recovery and addiction treatment facility. Greg summarized the situation as a civil matter, not a criminal case. The detective, obviously sympathetic, said he would think about it before filing charges.
Greg kept in periodic contact with the detective up until the scheduled arraignment date.
On the scheduled arraignment date at the Airport Courthouse, Greg appeared, but did not see any case filed for our client. He called the Santa Monica City Attorney's Office and learned that the case had been deemed a "DA reject."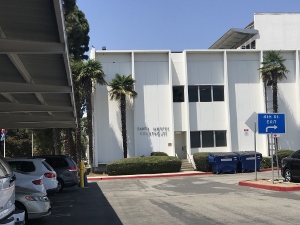 Santa Monica Courthouse
The client and her father were extremely relieved to receive the news and thankful that Greg had made contact with the Santa Monica Police Department, persuading and reminding the police of the legal shortfalls of the case.
For more information about trespassing, having an arrest removed from one's record and issues with a criminal record on the Internet, please click on the following articles:
Contact us.