Torrance, Bar Fight, Assault with Deadly Weapon, No Jail
Our client, age 52, was invited by his co-workers to join them for a 20th work anniversary party for one of their mutual colleagues. The group of ten co-workers went to an area known as the "Brewmuda Triangle" near the corner of Western Avenue and 208th Street. It was dubbed a triangle because three microbreweries were all within walking distance of each other in the area.
Our client had no prior criminal history whatsoever. He had worked for the same large employer for nearly thirty years and was prized for his unique skills and superior work ethic.
After a beer or two, one of the much younger employees began telling our client that our client had stolen his girlfriend. Our client, a married man of over twenty years with a disabled son, was dumbfounded. He did not know if the comment was a joke or serious, as the co-worker appeared sincerely angry about this incident.
Our client moved away from the aggressive co-worker, but the co-worker followed him all over the bar. Our client tried to join conversations with other co-workers, but the other young employee glared at our client and followed him around tenaciously.
Finally, our client realized the other employee was quite drunk and very determined to argue or even fight with our client over his perceived defeat in pursuing some woman our client could not identify. It was an awkward situation, made worse by alcohol.
Finally, our client decided he needed to leave this party, as the younger, much shorter and much lighter employee doggedly followed our client all over the bar. As our client walked out, upset that he was being forced to leave due to this one odd youngster, the young employee followed our client into the parking lot, saying to our client, "Your wife is a whore. You are a loser. Go home to your whore wife!" He seemed to be cornering our client all the while. Our client felt like he was about to be punched at any moment.
With the younger employee's remarks about our client's wife and the feeling of an impending punch, our client decked the younger employee. He hit him so hard that he immediately went down. He facial bones were broken. He landed on his side, breaking his nose as well.
The younger employee rose to his feet and yelled that he was going to sue our client and "make him pay." He repeated this several times. Our client was shocked. Instead of leaving the bar, our client waited for the police to arrive and then cooperated fully with the police.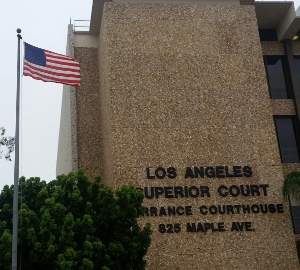 Torrance Superior Courthouse
The police had a hard time gathering evidence because witnesses to the events were worried that they would be sued by the young employee if he brought a civil lawsuit against the employer and naming individual employees for negligent supervision of our client. The other employees, six or seven of which were interviewed by the police, uniformly reported they saw very little.
When our client was bailed out, he immediately retained Greg Hill & Associates. Our client had been summarily terminated for the incident, after 25 plus years of faithful service. Greg met with the client and listened to the story of what happened. Greg explained that self-defense may be a possible defense, depending upon what the other employees told the police. Greg also recommended that our client begin attending Alcoholic Anonymous (AA) meetings and anger management classes, too. Greg made it clear that advised this not because he believed our client needed such classes, but because it would help in negotiating a fair plea bargain later.
A felony criminal case was then filed against our client, charging him in the Torrance Courthouse with assault by means of force likely to produce great bodily injury (Penal Code § 245(a)(4)). Because the client's punch did produce several broken bones, a sentencing enhancement of great bodily injury was alleged as well under Penal Code § 12022.7(a), which also made it a "Strike" under California's Three Strikes Law (Penal Code § 1192.7(c)(8)).
The client faced a minimum of two years in state prison for the assault with a deadly weapon charge, plus three years for the great bodily injury allegation. The initial offer was thus five years in state prison. Probation was not offered due to the severity of the injuries, made seemingly much worse by photographs of the victim taken in the hospital with a swollen face, bruises and dried blood.
The offer did not improve whatsoever and the matter proceeded to a preliminary hearing in Torrance. The victim testified and made his injuries seem permanent and that our client overreacted. However, one of the witnesses to the fight confirmed our client's account that the victim did call our client's wife a whore. This same witness, however, also said that after our client knocked down the victim, our client "mounted" the victim over his chest and continued to punch the client even though he was unconscious and already bleeding.
Greg wrote a Defense Position Letter and met with the prosecutor and her supervisor. It was a tense meeting, wherein the handling prosecutor reminded Greg several times of how violent our client was and how a jury would most likely lack any sympathy for him. The supervisor, however, was less accusatory and took into consideration the fact that our client had attended over 100 AA meetings to date and twelve anger management classes.
Greg also explained that our client was not the primary aggressor, but that imperfect self defense would be an issue that jurors might struggle with throughout.
At the next hearing, the District Attorney made a new offer: no prison, five years of formal probation, 120 days of Cal-Trans labor, payment of restitution to the victim, two AA meetings per week for the first year of probation and twelve more anger management classes.
Our client was extremely happy with this new offer and accepted it, greatly relieved that he could continue working to support his family.
For more information about the issues in this assault case, please click on the following articles:
Contact us
.