The Effect of Intellectual Disability on Sentencing
In the day-to-day practice of a criminal defense attorney, it is common to hear relatives of a client confide that our client is intellectually below average. They may tell us he or she never got good grades or dropped out of school because it was too tough.
About This Article Briefly: Diminished capacity as a defense no longer exists and arguing diminished capacity can be a very tough argument, requiring psychological experts to testify at trial. Nonetheless, such an issue can be and should be discussed, as appropriate, in plea bargaining.

The client may also explain to us that the police report is wrong in some important way because "only a stupid person would do that, "or" I would never do that – that would be dumb."
In evaluating such cases, it is important to distinguish between lacking capacity and being intellectually disabled. Under Penal Code § 25, the defense of "diminished capacity" was abolished, meaning evidence of a defendant's "intoxication, trauma, mental illness, disease or defect shall not be admissible to show or negate capacity to form a particular purpose, intent, motive, malice a forethought, knowledge or other mental state required for the commission of the crime charged."
The reasoning behind such a broad prohibition seems clear: it would give those with certain conditions extra rights, at least arguably. In addition, allowing evidence of, for example, mental illness into court could open the door to expert witnesses who could turn each trial into a psychology trial.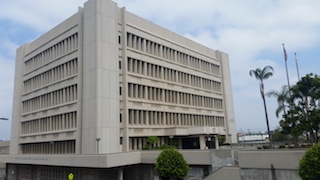 Inglewood Courthouse
Insanity remains a defense, but the accused, to establish this, must prove by a preponderance of the evidence that the accused was incapable of "knowing or understanding the nature and quality of his or her act and of distinguishing right from wrong at the time of the commission of the offense."
Intellectual disability is not a defense to the commission of a crime, but it can be a legal bar to certain types of punishment. What we find is that this issue is often taken into account in plea bargaining and sentencing only.
If the intellectual disability is so extreme it can be a bar to imposition of a death sentence, as the following case summary illustrates, under federal law as a form of cruel and unusual punishment. While the following case is not from California, the applicable federal law would govern cases in California on a federal habeas writ.
In 1982, an Arizona state court jury convicted Robert Smith of kidnapping, sexual assault and murder. He was then sentenced to death.
Twenty years later, in 2002, Smith was still alive. In 2002, the U.S. Supreme Court decided
Atkins v. Virginia
(2002) 536 U.S. 304, holding that the execution of intellectually disabled criminals constitutes "cruel and unusual punishment" prohibited by the Eighth Amendment. For Smith to show
Atkins
applied to his case to vacate his death sentence, he had to show that at the time he committed his crimes in 1980 or when his trial proceeded, he was mentally disabled.
The Arizona trial court that handled his case in 2007 reopened discovery and held a two-day evidence hearing to address this issue. Dr. Thomas Thompson, a neuropsychologist and prescribing psychologist selected by Smith, testified. Dr. Thompson gave the opinion that when Smith committed the crime, there is a high probability that he was then intellectually disabled.
The judge also heard the testimony of Dr. Sergio Martinez, a psychologist selected by the prosecution. He said there was a high degree of probability that Smith was not intellectually disabled in 1980, when the crimes were committed.
The trial court judge ruled that the evidence did not preclude Smith's execution. Smith then appealed to the Arizona Court of Appeals, which denied Smith's appeal. Smith then appealed to the Arizona Supreme Court, which also denied Smiths petition for review.
Smith then appealed to the U.S. Court of Appeals for the Ninth Circuit, which remanded the case back to the district court for review of Smith's claim under
Atkins v. Virginia
. The district court denied the claim and Smith appealed up to the Ninth Circuit again, on the limited issue of his
Atkins
claim for being intellectually disabled and thus, his death sentence was unconstitutional.
The Ninth Circuit, in
Robert Douglas Smith v. Dora B. Schriro
, (the warden), at 2016 DJDAR 1226, granted the appeal, finding the sentence of death was unconstitutional because Smith was intellectually disabled at the time. It found that the trial court was wrong and remanded to the trial court resentence Smith to life in prison instead.
As the reasoning behind the decision was quite complex, this article will not trace it for the reader. However, the main message of this article remains: a defense of most common mental conditions is ineffective as a bar to liability, but intellectual disability can be for certain types of punishment such as a death sentence.
The citation for the United States Ninth Circuit Court of Appeals ruling discussed above is Robert Douglas Smith v. Dora B. Schriro (9th Cir., 2016) 813 F.3d 1175.
For more information about mental capacity, please click on the following articles:
Seventeen Year Old May Be Charged As an Adult with Federal Second Degree Murder Based on Lay Testimony That He Had Average Intelligence and Maturity
Court May Not Involuntarily Commit a Mentally Retarded Person without a Showing That Violence Is Related to Retardation
Contact us.