San Bernardino, Arrest at Rave, RISE Program, Case Dismissed
Our client, age 19 and a sophomore at a well-respected four-year college, attended a rave event with two of his close friends. The rave was at the Nosi Event Center in San Bernardino. Prior to going there (he was a passenger), our client drank several mixed drinks, as well as several shots of tequila.
While standing in line to simply enter the event, he was arrested by the Victorville Police Department for violating Penal Code § 647(f), public intoxication.
In a Nutshell: Client arrested for public intoxication and bringing drugs into a jail, the Norco Detention Center. Case filed in San Bernardino and a separate case filed in Rancho Cucamonga, one for public intoxication and one for possession of a controlled substance. Greg filed Kellett motion and DA responds by offering RISE program for dismissal of both cases.

He was then taken to the Norco Detention Center and booked. When taking off his shoes as part of a standard jail inspection, he was found to possess a white powdery substance (in his socks) that was later examined by a laboratory and found positive for MDMA. When he was found with the substance, he was shocked, as he had no idea how the substance, in a small baggie no less, had found its way into his sock – and told the police there. He was then told that he had violated Penal Code § 4573, bringing a controlled substance (ecstasy) into correctional facility. This is a felony.
About a month later, the San Bernardino District Attorney's Office filed a criminal complaint against our client for only violation of Penal Code § 647(f), public intoxication.
About three more months later, the Rancho Cucamonga District Attorney's Office filed a separate criminal complaint against our client for a violation of Health & Safety § 11377, possession of a controlled substance, a misdemeanor. This charge arose out of the ecstasy found in the jail.
The two cases had obviously arisen out of the same chain of events, but were arguably separate. This type of dual filing is often called "claim splitting." Under
Kellett v. Superior Court of Sacramento County
(1966) 63 Cal.2d 822, claim splitting is prohibited, based on violation of principles of double jeopardy under the U.S. Constitution, as applied to the states through the Eleventh Amendment. Therefore, Greg filed a motion to dismiss the later-filed complaint, the more serious charge of possessing a controlled substance.
The District Attorney in Rancho Cucamonga responded by calling Greg and asking him if the client would be interested in the RISE (Rehabilitation, Intervention, Support and Education Program) as a way for the client to earn a dismissal of both cases. Greg was puzzled by the call. Why was she calling? Instead, after all, it should have been the prosecutor from the San Bernardino court calling with such an offer.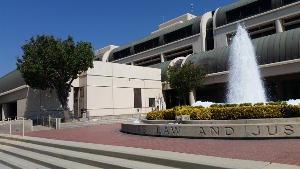 Rancho Cucamonga Superior Courthouse

The District Attorney from Rancho Cucamonga explained that if our client agreed to have the San Bernardino case transferred to Rancho Cucamonga, he could resolve both complaints in one case and earn a dismissal through RISE.
The RISE program is one of the few remaining "good deals" in the Los Angeles, San Bernardino, Orange and Riverside areas. It is rare insofar as it allows a delayed entry of plea, rather than a delayed entry of judgment. It is a program, mostly for more youthful, first-time offenders and mostly dealing with drug offenses and petty theft, wherein the defendant is offered a chance to earn a dismissal by performing eight hours of community service, attending a "Community Accountability Class," paying a program fee of $400 and paying restitution, if applicable.
Our client readily agreed to such a program and the proposal made by the District Attorney in Rancho Cucamonga. He was happy that Greg Hill had spotted the
Kellett
issue and prepared the motion, which triggered the prosecutor's offer of RISE to prevent her office from being embarrassed with a case being dismissed.
For more information about possession of a controlled substance, public intoxication and diversion, please click on the following articles:
Contact us.