Restitution in Graffiti Case - $18,878 for 32 Incidents?
For anyone facing charges of vandalism by graffiti, it is often shocking to find out what the restitution costs can be. After all, if one spray paints one's initials on a wall, how can it cost over $500 to remove this?
Summary in 50 Words or Less: Restitution requests, to be ordered paid, must be attributable to the crime and when consisting of general expenses like employee salaries, must be pro-rata apportioned to the conduct so there is "some factual nexus" between the crime and the restitution element sought.

More fundamentally, how is restitution measured? What can it include? The California Supreme Court has stated that "a restitution award for economic losses may include the materials, equipment, and labor costs incurred for remediation. Preexisting expenditures, such as salaried employees and equipment purchases, may be included provided those costs can be fairly apportioned on a pro rata basis to the minor's conduct."
Luis M. v. Superior
Court (2014) 59 Cal.4th 300, 309.
The court in
Luis M.
went further, adding, "while the court need not ascertain the exact dollar amount of the City's losses . . . its calculation . . . must have some factual nexus to the damage caused by the minor's conduct." This open-ended language should give one concerns about how a trial court can find "some factual nexus," as it seems to bestow a trial court judge with a great deal of freedom to find such a nexus.
The case of Anthony R. Santori out of the Lancaster Superior Court proved this to be correct and, in so doing, should serve as a warning to all about the power of a trial court to award restitution awards that can be quite high.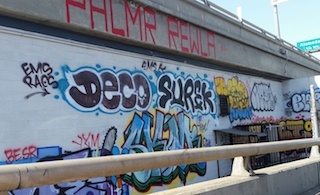 Graffiti
Santori was not a choir boy. He had a lengthy history of vandalism, as well as juvenile record for taking a vehicle without the owner's consent. He also had a prior conviction for burglary. Making matters worse, while he was on probation for vandalism, deputy sheriffs observed images of graffiti on his cell phone with his moniker "Seor."
The City of Palmdale had cleaned up dozens of incident of graffiti depicting the name Seor and had retained photographs of such abated graffiti. Mr. Santori admitted to 36 of such incidents, although there were over 70 in total.
Two separate cases were brought again Santori for his graffiti. In one case, he was charged with seven counts of vandalism by graffiti. In the second case, he was charged with five counts of vandalism. In each case, it was alleged that in each count, the damage was over $400, making it a felony. In the first case, he pled no contest to one count of vandalism. In the second case, he also pled to one count of vandalism and agreed to pay restitution.
At the restitution hearing, the prosecution requested $21,952 in restitution. At the hearing, Palmdale's crime prevention officer testified. She analyzed the city's cost to abate the graffiti in Santori's two cases, considering the costs of the cleanup crew, administrative costs, her salary, costs to hire a deputy sheriff and the cost of Graffiti Tracker, a computer software program the city uses. The city also pays the Los Angeles County Sherriff's Department a fee to hire a deputy to investigate the graffiti.
Based on these costs, the crime prevention officer calculated a "per minute cost" to abate graffiti. She then testified that it took an average of 100 minutes to remove a piece of graffiti. She stated that the city was seeking restitution for 32 incidents, although there were 70 or more in total.
She did not add into her total costs the time the cleanup crew used in travelling to the site of the graffiti. After reducing investigative costs of approximately $3,050, the trial court judge awarded restitution of $18,878.23, to be paid by Santori as a condition of probation (under Proposition 8, the Victims' Bill of Rights, passed in 1982).
Santori appealed to the Second Appellate District, which issued its ruling in
People v. Anthony R. Santori
(2015 DJDAR 13488), affirming the trial court's award. The appellate court rejected Santori's argument that the City of Palmdale failed to show a factual nexus between the restitution order and the damage allegedly caused by him.
In distinguishing this case from
Luis M
., which overruled a restitution order for including costs for average graffiti remediation costs and not Luis M.'s specific acts (in
Luis M
., the city employee witness did not bring in pictures of Luis M.'s graffiti), here the crime prevention officer did produce photographs of Santori's vandalism. Based on the photographs, she estimated that 100 minutes would be the average time needed to remediate his specific acts of graffiti, based on the size, extent and type of graffiti.
Thus, the People had established a nexus, or link connecting the expenses to the specific graffiti admittedly caused by Santori. The appellate court consequently found the trial court did not abuse its discretion in determining the amount of restitution owed.
The citation for the Second Appellate District Court ruling discussed above is People v. Anthony R. Santori (2d App. Dist., 2015) 242 Cal.App.4th 122.

For more information about the issues in this case, please click on the following articles:
Contact us.