Sex Offense / Public Urination Testimonials
Pursuant to California Rules of Professional Conduct, Rule 1-400, Standard (2), we note that "these testimonials or endorsements do not constitute a guarantee, warranty, or prediction regarding the outcome of your legal matter."

"Greg Hill was able to get 3 criminal charges dismissed for me in less than 3 days! I currently live in Pennsylvania. I obtained the charges in the state of California. I hired Mr. Hill to represent me on Friday and on the following Monday before noon, I was free of all charges. I never left Pennsylvania! The lady who took my call was nice and knowledgeable. She is the reason why I was able to trust this company to work for me in the first place. Mr. Hill said what he could do and he delivered. I put my trust in Mr. Hill and I'm glad I did. Every attorney I called prior to this attorney quoted me $5,000. Mr. Hill charged 1/4 of that price and also paid legal fees! That's integrity you can count on. Thank you Mr. Hill. I am able to work in my career of choice." H.T., Pennsylvania

"Thank you again, but please know that although overwhelmingly grateful, these months have been and continue to be a watershed moment in absolutely every way. I know in what you do you might deal with a lot of people and seen many things. Please know what you have done in not just representing me, but in few conversations, in my opinion, was God sent to give me two things sorely lacking in humility and gratefulness. This is not the end of the drama, but the beginning of the work to finally be the husband my wife deserves and the man those who love me can be proud of. With all sincerity Mr. Hill thank you for what you do. It might at times seem difficult, but know every once in a while you change lives, families and futures that make all that was intended for bad turn to be good." K. T., Lynwood

"I hired Greg Hill & Associates after finding him on Yelp and Google to represent me in a public urination case in Fullerton. In speaking with Greg over the phone, I was happy to hear him describe what he could do and what his experience was in Fullerton on these types of cases. I was worried about the consequences a misdemeanor might have on my employment, so I wanted a good attorney and Greg seemed like the man to hire. I was super happy to hear he got the case dismissed after it was filed. I did not have to pay one cent to the court in fines or even make a donation to the victim emergency fund. Greg just talked to the Fullerton City Attorney and the prosecutor agreed to dismiss the case. The judge then did so. It was the best news ever. He preserved my future and my job. I recommend him highly."
H.B., Montebello
"I had a wonderful experience working with Greg! I had a case come up that I was afraid would keep me from clearing a background check for my dream job. Greg helped me get prepared when I called him just one week before my court date. He gave some suggestions on what I should do that would look positively for the courts, and had my case reduced down to only an infraction. I am seriously so grateful for Greg's help, and I am starting my dream job in 3 weeks. thank you more than I can say!"

W.S., Torrance


"Thank you so much for all your help with my case! I couldn't be more relieved with the outcome. I really appreciate your time representing me and helping me resolve this. I feel like the last couple months I've been carrying this weight on my shoulder and now it is gone, so thank you again. If I ever hear someone who is in a similar situation that I was in I will definitely give them your contact information."
Q.M., Fullerton
"I'd like to thank you very much as this ticket had me quite stressed out for a while. I really appreciate your legal help on this and being able to get this cased dismissed with nothing on my record. As I've said before thank you very much Mr. Hill and I really appreciate the help." G.M., Fullerton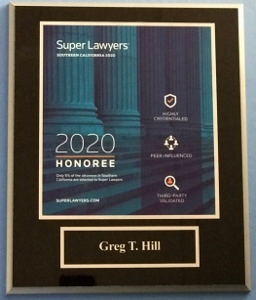 "My experience with Greg Hill & Associates was amazing. I received a ticket for public urination last year. I was really stressed out on what the outcome would be if I did get charged so I emailed Greg for help and he called right away and after explaining what he could do for me. I hired him to represent me. He took care of everything.

I emailed the office and Sandra was quick to respond and answer my questions and helped me feel better about what was going on. When court dates came around Greg emailed me right after clearly explaining what happened and what to do next. After two months since the first court date Greg got my case dismissed! I couldn't be happier about the outcome.

I really appreciate your hard work Greg and thanks so much Sandra! I would definitely recommend Greg and if I have any other legal issues he would be the firs person I give a call to. Thanks again Greg."

G.F., Huntington Beach, CA


"Greg Hill and Associates provided a phenomenal experience for me. They got my misdemeanor ticket marked down to an infraction. And is also writing a letter for me to help me earn a future career. Greg hill does above and beyond in his work. Great place to do business with."
B.M., Gardena
"I hired Greg Hill & Associates to handle a small case out of the Long Beach Superior Court. Although it was a minor misdemeanor, Greg had a sense of urgency and explained the process of what to expect, based on his experience there. I felt good hiring him, as he was generous with his time with me. I felt better when he rejected an offer to take a conviction (a plea bargain) wherein I would only have to pay only about $200 because he believed in me. We went to trial and won. Vindicated. Nice. He exceeded my expectations in every way and his fee was lower than many other attorneys I had contacted before him. I hope I never need an attorney ever again, but if I do, I will call Greg first."
C.J., Long Beach
"I had a great experience working with Greg. My case was dismissed and he was really thorough and personable throughout the entire process. All my questions were answered very promptly and I was extremely impressed with the communication. I would highly recommend Greg Hill & Associates."
M.J., Hermosa Beach
"Greg Hill & Associates was a great pleasure to work with. They settled my case in a quick and professional manner. Every email that I sent was replied back to with a quick and prompt response. I am very happy with the services and highly recommend."
S.S., Torrance

"I don't know how to thank you. I greatly appreciate what you have done for me. Thanks so much. God Bless!"
L.A., Long Beach


"Police arrested my son for supposedly molesting his stepdaughter. My son didn't do it - but the girl was mad at him for yelling at her 36 year old, meth-addict boyfriend. But that didn't matter to police - they arrested his arse like faster than ordering donuts at a donut shop near closing time.

Bail was set at 2 million dollars!!!! We knew we needed an attorney, but we didn't know anyone. My wife and I had to find someone to help, so we hired a local attorney in the Ventura area, where my son was arrested. We paid that piece-o-poop $7,500 and all he told us was that my son was facing very serious charges. No kidding! I don't think going to law school helped that fool too much. My son was facing lewd acts with a child under 14, statutory rape and about five other charges. He faced life terms that ran consecutive, i.e. one after another.

This attorney in Ventura also never answered my calls. I think he just wanted the money. And he insisted upon the whole check up front.

After about three times in court, we fired his arse. We looked around the Internet and interviewed about three or four attorneys. They were expensive. It was like they just wanted to profit off my son's lying step daughter.

Then we called Greg Hill. We saw his reviews online and read some of the articles he wrote on his website. We also read about the cases he handled on his website. So we called him. It was a Sunday.

Greg Hill answered the phone and we met him later that day. We had to drive out from Murietta to Torrance to meet him, but when your son is in jail and facing more than life in prison, a man has to do what a man has to do, you know?

Greg understood this was a case more about the stepdaughter (that liar!!!) than my son. No other attorney said that. His price was also just $5,000, which he apologized for charging. We also got to pay in payments. He did not demand it all up front like the other lawyer.

Greg then visited my son in jail the next Saturday and spent 2 hours with him in the Ventura County jail. At this time the plea bargain offered was twenty years to life. The DA would not even get more specific, like 23 years. And my son would have to plead to three Strikes, which would screw him up if he ever got out of prison alive.

Greg then filed a motion to reduce the bail. In the papers he wrote, he laid out the case like we was going to trial. The judge was prejudiced I think against sex crime defendants, so he didn't change the bail, but Greg woke up the darn DA finally. Now the DA wanted to talk!!

Greg then worked on the case, going to court and kept negotiating. He even visited with the top DA for the courthouse there to try to get a better deal for my son, but it didn't seem to work. Greg did not give up.

We then went to the preliminary hearing and Greg brought in a witness from New Mexico to talk about my son's accuser. Greg also put on my biological daughter on the stand and asked her questions.

After the preliminary hearing (lawyer call it a Pre-Lim), the prosecutor reduced the plea bargain to five years with one strike or six years with just one strike. My son was ecstatic and took the six year deal. He should be out in about 4 years after all the credit for time served is subtracted from the six.

I just want to say to everyone out there, we hired Greg because of the reviews we read online and we are happy we did. He saved my son at least fourteen years of his life. Greg was always there. He cared. Thanks Greg. You're a super lawyer."

- R.J., Murrieta Valley

"That is great news and relieving. Thank you very much for your dedicated work on my case. I truly appreciate your assistance through this process."
T.B., Cerritos


"The most knowledgeable attorney period. As a second time offender I was looking at certain, serious jail time but Mr.Greg Hill was unrelenting when he fought for me. He was able to argue a compelling case to the judge and I was able to avoid jail or prison time. Mr. Hill understood that I needed to be able to keep my job so I can continue to help my mother financially. I am very fortunate Mr. Hill was willing to take my incredibly difficult case, I don't believe anyone else would have fought this hard for me. Mr. Hill was always professional and kept me informed. His compassion is what makes him a unique person and is what I needed at this lowest point in my life. I am eternally in debt to you. Highly recommended!"

S.R., Long Beach


"Thank you Greg. This is absolutely the very best work any attorney has ever done for a client!"
C.F., Palos Verdes Estates


"Mr. Hill was my attorney for a 647(b) case where I was caught in a sting operation in Long Beach. After a small fee, he appeared in court three times on my behalf and got me a deal where I can perform certain actions (HIV/AIDS education course, Sexual Compulsive Anonymous meetings, and Cal Trans community service) over the course of a year and have the entire case dismissed (AB 2124, California). The dismissal happened just a few days ago and was pretty much a piece of cake from my end (all I needed to do was provide proof of the obligations). Based on my discussions with him, he mentioned that he got the same deal for 2 others involved in this entire sting, and he was the only lawyer that got that deal out of anyone caught in this sting that had representation. I am very pleased with the conduct of both Mr. Hill and others in his office that I spoke with, and definitely pleased with the result (my record is now clean again). I recommend him for any offenses you may need legal counsel for."
T.M., Long Beach


Contact us.