Prostitution Sting Near U.S.C., Judicial Diversion, PDP
Our client, age 52, worked in Downtown Los Angeles, supporting a wife and two children now in college.
He had made good decisions so far in life and worked hard. However, he decided to search through Backpage.com for a prostitute one afternoon, while at work.
He came upon an ad for an "Italian Bombshell, You Will Love My Body, I'm Ready to Please!" and called the number by the ad about 7:30 p.m. The police officer (the decoy) answered the call and quickly negotiated a fee for "everything" (usually understood to be oral sex followed by intercourse). The fee agreed upon was $100.
Without All the Details, What Happened? Client arranges a meeting with an apparent prostitute (really a cop) through Backpage to meet at the Trio House restaurant on Figueroa near U.S.C. Case resolved with dismissal after client completed PDP.

The officer then explained where he could meet her, outside a restaurant called the "Trio House" near the Vagabond Inn on Figueroa, north of U.S.C. and just north of Staples Center. Before ending the call, our client asked the female, "You aren't a cop are you?" The female reassured our client "no."
She then described herself so he would recognize her: "tan shirt, black skirt, black shoes."
It was a full two more hours before our client drove his car into the parking lot for the Trio House. He had texted the decoy several times in the meantime, advising her of his estimated time of arrival.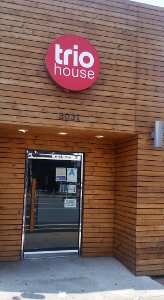 Trio House Entrance
When our client pulled into the parking lot, he did not see the person he believed was a prostitute. He texted her and she instructed him to come up to Room 200. Our client went up to Room 200, knocked and was greeted at the door by two male police officers, who quickly grabbed our client by his arms and brought him into the hotel room. They then had him sit down on the bed.
A sinking feeling hit our client as he realized what would follow. He had the $100 in his pocket, as well as one prophylactic.
He was taken to the Rampart station, where he was booked on charges of violating Penal Code § 647(b) ("Solicitation of Prostitution") and allowed to be released on his own recognizance (OR) several hours later.
When the client called Greg Hill & Associates, he was most concerned about the effect of a conviction on his employment and what consequences this might have for his employment if he had to switch jobs. After all, he had a mortgage and college expenses for his two daughters.
Greg listened to the client explain the facts of the arrest and explained how such cases were often handled in the Downtown Los Angeles Courthouse (Central Criminal Building, or "CCB," also known as the Clara Shortridge Foltz Building). When a client had no prior criminal history, and the arrest did not involve any other charges (i.e., finding a controlled substance in our client's pocket or resisting arrest), the prosecutor (the Los Angeles City Attorney's Office) will offer a delayed entry of judgment form of diversion.
In such an arrangement, our client must sign up for and attend the Prostitution Diversion Program (PDP), a one-day program meant to educate attendees about the reasons why prostitution is illegal and the dangers associated with it. The client must also submit to an HIV test and then bring the test results to his or her attorney (or to court). The judge will then dismiss the case after a year if the client successfully attends the quite expensive class ($700) and has his blood tested for HIV.
Greg explained this to the client, who agreed to the program and blood test, as he was keenly interested in avoiding a conviction. He then did attend the PDP, submitted to the blood test and his case was dismissed after one year.
The client was happy he had retained our office for the peace of mind that his case was being handled properly and because he did not want to have to go to court and miss work.
For more information about prostitution and diversion, please click on the following articles:
Appeals Court Affirms LAPD Officer's Conviction for Solicitation of Prostitution (Penal Code § 647 (b))
Contact us.