Prop 47: Is Burglary from Employee Only Area Shoplifting?
Proposition 47, also called the Safe Neighborhoods and Schools Act (Penal Code §§ 1170.18 (a) – (i)), provides a process through which qualified felons may apply for resentencing of a felony conviction as a misdemeanor.
In a Nutshell: Second degree burglary, as a felony, may be reclassified as misdemeanor shoplifting under Prop 47, even though the thief climbed over a back fence to enter a store's back door during normal business hours and then stole an air compressor worth $350 from an employee-only restroom that was not for sale to the general public.

A qualified felon has been defined as someone previously convicted of certain low-level felonies involving simple possession of controlled substances and, generally speaking, simple theft offenses involving less than $950 and not involving violence or weapons.
Courts across the state have ruled inconsistently on which offenses qualify for resentencing as a misdemeanor. Judges are certainly doing their best, but there are a myriad of factual circumstances that test the limits of what is shoplifting. For example, is second degree burglary eligible to be reclassified as shoplifting.
If the reader's answer is no, the reader would not be alone. Judge Laura Laesecke in the Long Beach Superior Court, who is well-respected, answered "no" as well, but the Second Appellate District Court reversed her.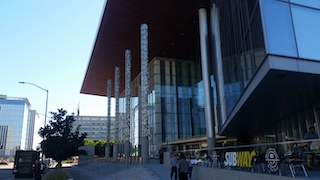 Long Beach Courthouse
The case involved Defendant Nicholas Hallam's 2011 entry into the Computer NLA store through a back door after climbing over a fence. Hallman then entered the employee-only restroom and took an air compressor worth $350. These events all took place during normal business hours.
Mr. Hallam quickly pled to one count of second degree burglary. He was sentenced to two years in state prison.
Almost four years later, Hallam filed a petition for resentencing under Proposition 47 (Penal Code § 1170.18), asking Judge Laesecke to redesignate his felony burglary conviction as a misdemeanor shoplifting conviction under the new Penal Code § 459.5.
The Long Beach District Attorney opposed the petition arguing that the facts of the case did not fit the crime of shoplifting. After all, Hallman entered the store through a back entrance not accessible to customers, went into an employee-only area also not accessible to store customers and stole an item that was not merchandise. Therefore, it was not shoplifting, although the theft did occur during normal business hours.
Judge Laesecke agreed and denied the petition. Hallman then appealed to the Second Appellate District.
The Second Appellate District viewed the offense much more broadly. It noted from the outset that Penal Code § 459.5 defines shoplifting as, "entering a commercial establishment with intent to commit larceny while the establishment is open during regular business hours, where the value of the property that is taken does not exceed $950."
The appellate court also noted that a trial court may deny such a petition if the judge determined that resentencing would pose an unreasonable risk of danger to public safety."
People v. Hoffman
(2015) 241 Cal. App. 4th 1304, 1308-1308, Penal Code § 1170.18(a). This alternative grounds for denying the petition was written with an awareness that redesignating a felony as a misdemeanor could cause the release of certain felons from prison and back to the public. This alternative grounds, however, only applies to a petitioner currently serving his sentence.
In the case of Mr. Hallman, he had finished his sentence, so the only analysis was whether Mr. Hallman's conduct fit within the definition of Penal Code § 459.5 as quoted above.
The appellate court found that Hallman's conduct did meet the scope of § 459.5, suggesting that it did not matter how Hallman entered the store or what he stole. Instead, what was critical was only that it was something worth less than $950. It did not matter that the item stolen was not merchandise for sale to the public or that the item taken was in an employee-only restroom.
We think the appellate court went too far in this case. We also respect Judge Laesecke, who has a great reputation for fairness and being a good listener. However, as criminal defense attorneys, this is a ruling worth remembering, as it seems to stretch the limits of what is shoplifting under Prop 47.

The citation for the Second Appellate District Court ruling discussed above is People v. Nicholas Hallam (2d App. Dist., 2016) 3 Cal.App.5th 905.

For more information about Prop 47 issues, please click on the following articles:
Contact us.