Expungement & Probation Modification Testimonials
Pursuant to California Rules of Professional Conduct, Rule 1-400, Standard (2), we note that "these testimonials or endorsements do not constitute a guarantee, warranty, or prediction regarding the outcome of your legal matter."

"Once again you have knocked it out of the park! This is amazing news and I thank you for all your hard work! You and your team are amazing!!! Thank you! Thank you! Thank you!" V.S., Atlanta, Georgia

"I contacted Mr. Hill regarding an expungement. Communications with him were very clear and timely. He went the extra step and was quite thorough, to help ensure a successful expungement. He communicated with me every step of the way and I had great results. I highly recommend Mr. Hill." E.S., Mountain View

"Great news to start the weekend with. Thank you and Attorney Hill for your assistance in making this happen. I can continue with my goals of being a nurse with confidence now. I really appreciate it!" E. S., Gardena.

"This is great, thanks for the update. My wife gave birth to our daughter on Monday, so it looks like this is a great week. Thanks to you and Greg." G.C, Torrance

"Thank you so very much! I was very impressed by your services that I decided to come back. If all goes well, I will proceed with the other two expungements. Once again, thank you for all that you and your associates do to help others."
Q.D., Long Beach.


"I cannot mention this enough, but most lawyers I have met over the years due to these past issues were either incompetent or don't really care about a client's views --sometimes both. So when you meet someone who is both competent and compassionate it really is striking."

"My only regret is that I didn't meet you 10 years ago. I mean on the one hand considering that I was once looking at a possible third strike it is remarkable how well it had turned out, but on the other hand, had someone believed in me back then and listened to me like you did, I might not have ever found myself looking at a possible third strike in the first place"

"Lawyers told me back then that I would get a decade in prison, and only my own resolve and some deft maneuvering by the good lawyers I had, allowed me to avoid that. And then this time around the majority of lawyers told me 'don't bother' filing for an expungement. You didn't promise me the moon, but you also said it wouldn't be impossible! If I had been asked what to expect, I would have guessed the Van Nuys and Santa Clarita would have been expunged but realistically, I didn't expect any part of San Fernando to be expunged. (The irony being that the San Fernando case was the one I was truly completely innocent of!)."

"Keep doing what you are doing, having skills and empathy is a pretty killer combo!"


"Thanks again and Best Wishes." Y.J., London, England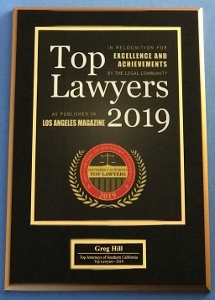 "I wanted to take the time to send you this email in gratitude of all the work you and your staff put into my expungement case. Before calling you, I had contacted a few other attorneys and, you are right, they can be pricey. When I asked my friend about his attorney, he referred me to you and I am so glad that he did.You did show professionalism and a prompt turn around. I think it could have been a little faster if I also would not have taken too long finishing my requirements, but I'm so glad that it is done. Thank you also for remembering my career plans. You do take your time to listen to your clients. It shows that you are in for the wellbeing of people. I will definitely keep you in mind for any references. Once again, a world of gratitude to you and all my best for your firm."
A.G., Hollywood


"Thanks Greg. That is good news. I really appreciate all of your hard work on my case. I look forward to putting this all behind me.
C.O., Torrance
"I can't recommend the services of Greg Hill & Associates highly enough. Greg and Kellie (one of his associates) did an absolutely fantastic job with my case. I had a charge of a wet reckless driving conviction and they succeeded in getting my mandatory probation terminated a year early, and also got my conviction dismissed. Most importantly, they were very helpful and communicative and reassuring through the entire process. I previously had a different lawyer who handled my original case who was unresponsive and unhelpful. Greg, on the other hand, was a completely different story. I am grateful to him and enthusiastically recommend his services. Greg and his staff were extremely helpful, polite and responsive."
C.M., Manhattan Beach


"That certainly did make my day! In fact, I think it made my year! Thank you so much for all of your hard work. I can't even begin to express how much I appreciate it. Thanks."

D.J., Florida


"I recently hired Greg Hill to handle an expungement for me. I had been laid off from a job and needed to get this resolved so I could secure another position fast to support my family. He wrote the expungement, filed it with the court and followed it through to the end. I am so happy with the service I received. The dismissal was granted and I can now finally feel relief.
I highly recommend Greg Hill. He was professional, knowledgeable and appears often in the Long Beach court. Thank Mr. Hill. I will definitely recommend you to anyone who needs legal services.
"
S.S., San Pedro

"I received a DUI and was worried it may hurt my chances to be hired. I researched and spoke with many law firms, although other law firms had experience with this type of dismissal, I was not too impressed with their credentials.

I stumbled on to Greg Hills & Associates. I reviewed Greg's resume before contacting him. What caught my was his education background: Naval Academy graduate and M.B.A. on top of his J.D. After reading the great reviews about Greg and his staff, I sent an email late at night regarding my case.

The next morning I received an email from Greg. He said he could help and setup a time so that we could discuss my case. Greg was easy to talk to, very personable, he sounded confident and knowledgeable; he knew the court house where my case was going to be heard, and the process and procedures to have my case dismissed. After speaking with about the case, we spoke more about our backgrounds. I could tell he was honest person and he could get the case dismissed.

The next morning one of his staff contacted me. She was polite and extremely helpful. The questions she asked were simple and straightforward. After responding to her questions, my application to dismiss my case was immediately submitted. A little over a month, I received an email from Greg with great news - the case was dismissed!

I wish I found Greg Hill & Associates sooner! I couldn't have asked for a better group of people to help me have my case dismissed."

A.B., Compton
"Thanks Greg! This makes my year!! I really appreciate all of the help and guidance you gave me to help get me thru this challenging experience. Thanks again."
P.O., Torrance


"Greg Hill & Associates are fast! I called them up after losing my job about two weeks earlier. I had a conviction from ten years before that employers were looking at and denying me employment. I called up Greg and they prepared a motion for expungement within about three days. They filed it and it was granted by the judge in Torrance within a week. I am now in a better position for getting work. Greg said he had never seen the paperwork granted so fast. I am glad I worked with them, as they have a sense of urgency that I appreciated. They got it done, the first try. Five Stars for sure. Worth every penny."
F.J., Torrance


"Thanks so much for everything Greg. Glad to get all of this taken care of. You have been amazing throughout the process. Much appreciation to you and your staff. Best wishes and hope we can meet on other terms at some point. Thanks again."
K.S., New York


"I hired Greg Hill & Associates to expunge two convictions I had from several years ago. While I was facing one case, I picked up a second case, so navigating the expungement process was somewhat I thought ought to be done by an attorney who could avoid any problems. I called up Greg Hill & Associates and spoke with Greg. He spotted the problem of having and seeking expungement of the first case before the second case, something I suspected would doom the second case, but I could not put words to. He filed everything quickly and both convictions were expunged. The prosecutor on the second case noticed the way Greg had avoided the problem and told him most attorneys would be blind to the issue and screw it up. Greg did it the right way, the first time. Very happy I hired Greg, as I was not in a better position to seek new employment prior to the expungements. Now I'm able to apply for any position due to the conviction removal/expungement. All around couldn't have asked for a better attorney. Thanks again, Greg."
B.M., Los Angeles
"I had a great experience working with Greg. My case was dismissed and he was really thorough and personable throughout the entire process. All my questions were answered very promptly and I was extremely impressed with the communication. I would highly recommend Greg Hill & Associates."
M.J., Redondo Beach
"Greg Hill & Associates helped me in my employment issues by filing a motion to have a conviction expunged. They did all the work and kept me advised of everything happening. I hope to work in the recording industry one day, as that is what I earned by AA in. Greg & his staff made that reality one step closer, or at least removed one big barrier to that, a conviction I had from years ago. I highly recommend them. 5 stars for sure."

C.A., Manhattan Beach
"Tremendous news, Greg. Thank you very much. I really appreciate your work here. You helped me expunge my domestic violence conviction after terminating my probation early. I hired you after facing numerous detentions at U.S. Immigration when I traveled out of country on business because of my conviction. Now I no longer have to worry."
B.B., Torrance


Contact us.