Must Police Always Knock and Announce Before a Home Search?
About This Article Briefly: Police do not have to always knock and announce before starting a search of a home. For example, police may skip this step when entering a garage or when there is some type of exigency such as a threat of physical violence within that police are responding to neutralize.

The "knock and announce" requirement is an obligation of police officers under the Fourth Amendment to announce their presence and knock on a door or wall before entering a home.
Wilson v. Arkansas
(1995) 514 U.S. 927, 931-934.
Such a requirement does not apply to "every place of entry into a home"
United States v. Valenzuela
(1979) 596 F.2d 1361, 1365 (holding there is no requirement to knock at a garage after entering the home). It also does not apply to a search of a separate house on the same property as a larger house because the owner of the larger house owned and possessed both houses.
United States v. Villanueva Magallon
(9th Cir. 2002) 43 F. App'x 16. However, if a separate dwelling on the property is being rented out by a third party, a separate warrant would be required and an additional "knock and announce" would be required.
United States v. Cannon
(9th Cir. 2001) 264 F.3d 875, 879.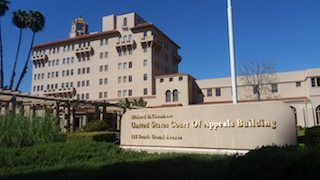 U.S. Ninth Circuit Court of Appeals Pasadena
The "knock and announce" requirement is not without exceptions, as one may surmise. Police can be exempt from this requirement when there is a "threat of physical violence."
Richards v. Wisconsin
(1997) 520 U.S. 385, 391 (quoting Wilson at 936). There must be, in other words, some type of articulable "exigency."
United States v. Granville
(9th Cir. 2000) 222 F.3d 1214, 1219. The government cannot "simply rely upon generalizations and stereotypes that are associated with drug dealers."
Id
. "Generalized fears about the weapons they usually keep is not enough to establish exigency."
Id
.
This article is about the criminal law aspects of the knock and announce requirement, but within the context of a civil lawsuit brought by two homeless people shot by officers who opened a backyard shack in the process of conducting a warrantless raid on a house.
In October of 2010, a team of twelve deputies responded to a call from a fellow officer who said he believed he had just spotted a wanted parolee named Ronnie O'Dell. O'Dell had been classified as armed and dangerous by a local police team, although the police later conceded that that label was used for all parolees-at-large without regard to individual circumstances.
The officers then received a tip from a confidential informant that O'Dell was possibly at a nearby house owned by a woman named Paula Hughes. The officers then were told that "a male named Angel [Mendez] lived in the backyard of the Hughes house with a pregnant lady [Ms. Garcia]."
The officers then knocked and announced on the front door of the Hughes house. Ms. Hughes answered and did not allow the officers in, asking them if they had a warrant. The officers said they did not and allegedly heard someone running around inside. They then broke into the house and searched the house, never finding anyone else inside.
Two officers then announced they would "clear the backyard." They went to a seven foot by seven foot shack made of wood and plywood. It was surrounded by an air conditioning unit, an electric cord and a garden hose, clothes and a clothes locker. Without knocking and announcing, the officers opened the shack and pulled back a blanket used to insulate the shack.
They then saw a man holding what they thought was a rifle and shot him fifteen times. Ms. Garcia was shot in the back and Mr. Mendez was shot multiple times. His leg required amputation due to the injuries below the knee.
Mendez and Garcia then sued the officers under 28 U.S.C. § 1983, which is a civil action, alleging a violation of their Fourth Amendment rights. The case was tried by a bench trial. The judge found that the officers did violate the Fourth Amendment and that the warrantless search was not justified by exigent circumstances. The judge also held that the officers violated the knock-and-announce rule. The plaintiffs were then awarded a monetary judgment, the amount of which, if mentioned here, may confuse the legal issues meant to be the focus of this article.
On appeal to the United States Court of Appeals for the Ninth Circuit, the Court of Appeals, in Angel Mendez and Jennifer Lynn Garcia v. Los Angeles Sheriff's Department (2016 DJDAR 2143) found that the officers were entitled to qualified immunity for their failure to "knock and announce" because the law on this was unclear because the shack at issue was so small that officers could not reasonably have expected that it was a residence.
The citation for the Ninth Circuit Court of Appeal ruling discussed above is Angel Mendez and Jennifer Lynn Garcia v. Los Angeles Sheriff's Department (9th Cir., 2016) 897 F.3d 1067.

For more information about searches of a home, please click on the following articles:
U.S. Supreme Court Rules That Warrantless Use of Police Dog on Front Porch to Signal Drugs Violates the Fourth Amendment
Contact us.