Must a Judge Always Give Option of Lesser Included Offense?
In some of the most serious cases, one may believe that convictions usually end on charges that are not so serious. In DUI's, for example, one may be arrested for DUI, but the case resolves for reckless driving (Vehicle Code § 23103). In a domestic violence case, the case may end in a conviction for battery (Penal Code §§ 243(e)(1) or even 242). In an indecent exposure case, the case may end in a conviction for disturbing the peace (Penal Code § 415).
Brief Synopsis: If the pleadings in a case allege facts supporting a lesser-included offense, the judge must give the jury instructions on lesser-included offenses and then the jury may find defendant guilty of lesser-included offense and maybe not the greater offense(s). In the following case, the pleadings did not allege lesser-included offenses, so no jury instructions were required for lesser-included offenses.

It is easy to see then why someone accused of a very serious case may expect the case always to resolve for a lesser charge. However, is this always possible? In other words, is a plea to a lesser included offense possible in all cases?
The case of Ildefonso Mendoza answers this question, as he was convicted of two counts of sexual intercourse or sodomy with a child 10 years or younger (Penal Code § 288.7(a); oral copulation or sexual penetration with a child ten years or younger (Penal Code § 288(a)); and possession of matter depicting a minor engaged in sexual conduct (Penal Code § 311.11(a)). The judge sentenced Mendoza to sixty-seven years to life in state prison. Should the case have resolved on lower charges?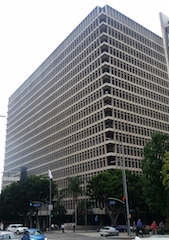 Clara Shortridge Foltz Criminal Courts Building CCB Los Angeles
Mr. Mendoza appealed the convictions on grounds that the trial judge in Los Angeles County (at the Clara Shortridge Foltz Building) made a mistakenly by not instructing the jury on the lesser included offense of attempted sexual intercourse, attempted sodomy, and attempted oral copulation.
The factual background of this case is important to understand to appreciate why such an appeal was filed.
Mendoza lived with Maria Ignacio, their two sons, and Ingnacio's daughter, Jessica. They had lived together for five years. On May 5, 2013, a Sunday, Ms. Ignacio left her house and went to the store. When she left, Mendoza was not home, but Jessica, age seven, was.
When Ms. Ignacio returned from the store, she saw Mr. Mendoza's car in the driveway, indicating he had returned home. When she entered the home, she walked into Jessica's bedroom and saw Mr. Mendoza standing in Jessica's room, naked, but wrapped in a blanket. Jessica was on the bed, with her pants off, except for one leg.
Mendoza immediately dropped the blanket and put on his pants. Mendoza told Ignacio he was not doing anything and that this was the first time he touched Jessica.
Ignacio then logged onto Mendoza's Facebook page. One picture showed Mendoza's penis on Jessica's vagina. Another picture showed it inside her vagina. Ignacio then went to the police and told them what she found.
Jessica then told the police that for about a year, Mendoza had had sex with her, including vaginal and anal intercourse. She also described oral copulation of Mendoza.
Jessica was then examined at UCLA's Sexual Assault clinic, who found no injuries to Jessica.
The police then orchestrated a pretext call between Ignacio and Mendoza, which was recorded. Mendoza admitted that he did touch Jessica with his penis, but denied there was any penetration like Jessica described.
Mendoza later was interviewed by the police and told them that in having sexual intercourse with Jessica, he only inserted "the tip." He also admitted anal penetration, but stated he could not "get in" his penis because "you can't." He also admitted oral copulation, but "just five times."
As to Mendoza's appeal, the Second Appellate District in
People v. Ildefonso Mendoza
(2015 DJDAR 10248), began by noting that a trial court "must instruct on an uncharged offense that is less serious than, and included in, a charged greater offense… whenever… substantial evidence suggested that all of the elements of the greater offense may not be present."
People v. Bailey
(2012) 54 Cal. 4th 740, 748.
Here, the lesser included offenses that Mendoza wanted instruction on were specific intent crimes, as all "attempted" offenses are. They had requirements that are different from the crimes he was convicted of, which were general intent crimes. See, for example
People v. Ngo
(2014) 225 Cal. App. 4th 126, 157. Moreover, the pleadings did not allege that Mendoza had the specific intent to commit the crimes. Thus, attempted offenses were not lesser included offenses at all, so the trial court did not make any mistake.
Mendoza's appeal was thus denied.

The citation for the First Appellate District Court ruling discussed above is People . Ildefonso Mendoza (1st App. Dist., 2015) 240 Cal.App.4th 72.

For more information about sentencing issues, click on the following articles:
Three-Strike Offender May Challenge Prior Strike Because Judge and DA in Prior Case Told Him at Plea No Strike Would Be on His Record.
Contact us.