Misdemeanor Public Urination Resolved As Infraction PC 415
For any client of ours who has a teaching credential, or any other state-issued professional license, it is critical that our office exhaust all efforts in trying to resolve the case in a way that avoids or minimizes the effect on the credential or license, as it can have career-ending consequences.
In the following public urination case arising out of Hermosa Beach, our client was a school teacher in a public school. He went out for a few drinks in the Downtown Hermosa Beach Pier Plaza area, enjoying two NBA games on television there. As the night went on, he drank more and more.
Summary: Our client, a credentialed high school teacher, was ticketed for misdemeanor public nuisance (Penal Code § 372) in Hermosa Beach for urinating in public after enjoying the downtown bar area. The case was resolved for an infraction, minimizing any negative effect on his license there.

At 2:00 a.m., the bar closed and our client headed over toward the taxi pickup area along Hermosa Avenue, just south of the intersection of it with Pier Avenue. As he walked over toward that area, feeling the cool night air, he felt the need to urinate.
He headed back to the bar and asked to be let in to use the restroom. The bar apologized that it could not let him back in. He frantically tried to use the restroom at several other bars and restaurants nearby, but each one told him he could not come inside.
As the reader of this summary may know, there are public restrooms along the Strand at the southwest corner of Pier Plaza, near Hennessey's Tavern and Kevin's Restaurant, but such restrooms are poorly lit and often frequented by homosexual men interested in an alternative use of the restroom.
There are no other public restrooms in the downtown area.
Our client saw no alternative but to find a discreet place to relieve himself before the long taxi ride home. He found a parked car in the ground level parking lot just south of Pier Plaza that looked large enough to conceal himself behind. Little did he know, but this particular parking lot is patrolled by one or even more Hermosa Beach police officers who scrutinize each person who appears may urinate in public.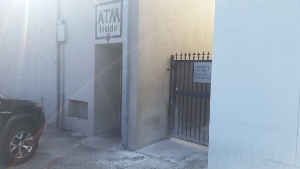 Hermosa Beach Parking Lot
Sure enough, as soon as our client had begun urinating, he heard a voice very close to him saying, "excuse me, are you urinating?" Our client sheepishly said he was and with great embarrassment, turned to see an undercover police officer beginning to write out a ticket. The officer explained that he would ticket our client and let him go if he signed a promise to appear in Torrance Superior Court in about four weeks.
Our client signed the promise to appear and, with great embarrassment, sulked away.
Once he returned home and read the ticket, he realized that the charge he was cited for was a misdemeanor. He became panicked that a conviction for a misdemeanor might jeopardize renewal of his teaching credential, or result in its immediate suspension.
He searched the Internet and called Greg Hill & Associates. He spoke with Greg Hill, explaining what had happened and describing his concerns about his teaching credential.
Greg explained how such cases are normally handled and how it would be a mistake to opt for judicial diversion, as so many people do in such cases when offered by the judge, because it would constitute a plea to a misdemeanor (although not a conviction).
Greg explained how the better resolution for our client would be to seek an infraction so the State of California would not see a plea to a misdemeanor. An infraction, after all, is the level of a crime as a parking ticket. It is the lowest level criminal conviction.
The client felt better knowing Greg had a plan and confidence that the case could be resolved as an infraction. Greg told the client that he expected the terms of the plea to the infraction to be that the client be required to make a $550 "contribution" to the Hermosa Beach Nuisance Abatement Fund and pay a $10 court fee, plus penalties and assessments (total of $151). Once the client did this, the Redondo Beach City Prosecutor would amend the complaint to allege an infraction level violation of Penal Code § 415(2) and dismiss the misdemeanor Penal Code § 372 allegation.
Greg then appeared in court for the client at the arraignment and negotiated exactly the resolution that he predicted to the client over the phone. The client then did make the "contribution" and paid the court fees and fines.
The prosecutor then did amend the complaint to allege an infraction and dismissed the misdemeanor. Greg then entered a "no contest" plea to the infraction for our client. The client was happy to avoid any plea to a misdemeanor to protect his teaching credential.
For more information about diversion and public urination, please click on the following articles:
Contact us.