May I Be a Sheriff with a Conviction for Battery (PC 242)?
The answer to the above question, like many questions posed to an attorney, is it matters. This topic, which is the subject of many phone calls we receive, was the issue in the case of
Scott R. James v. State of California
(2013 DJDAR 12991).
The Gist of this Article: One cannot become a law enforcement officer with a conviction for misdemeanor battery if the alleged victim was one's spouse or former spouse, which in the following case was factually true. This case, however, raises the question and suggests that one could be so deputized if the victim was a girlfriend or former girlfriend.

In October of 1996, in Tulare County, Scott R. James was arrested for allegedly inflicting corporal injury to his (then) wife. He was then charged with violating California Penal Code § 273.5 (domestic violence). About two months later, he or his attorney negotiated a plea bargain wherein he pled no contest to a misdemeanor violation of Penal Code § 242, simple battery, and was placed on two years of summary probation.
Twelve years later, in 2008, James applied to be a reserve deputy sheriff. Pursuant to the application process, a background check was performed and he was told that his 1996 conviction for misdemeanor battery barred him.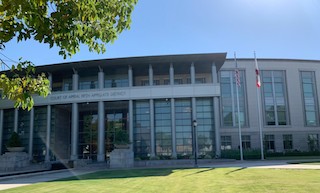 Court of Appeal Fifth Appellate District Fresno
Indeed, the federal Gun Control Act of 1968 (18 U.S.C. § 921, et seq.) prohibits possession of a firearm by anyone convicted of a felony. In 1996, it was amended to expand this prohibition to any person "who has been convicted in any court of a misdemeanor crime of domestic violence" (§ 922(g)(9); United States v. Hayes (2009) 555 U.S. 415, 418).
The Gun Control Act defines a misdemeanor crime of domestic violence (MCDV) as an offense that: "(1) is a misdemeanor under state law; (2) has, as an element, the use or attempted use of physical force, or the threatened use of a deadly weapon; and (3) is committed by the victim's current or former spouse" (§ 921(a)(33)(A)).
Then in 2011, Mr. James attempted to buy a gun, but his application was denied on the same ground: he had been convicted of an MCDV.
Mr. James decided to challenge this prohibition, so he filed a petition for writ of mandamus in the superior court seeking an order that the State of California review his conviction and determine if there were any facts in his plea that established a domestic relationship with the victim and if not, to order the State of California to recognize he was not a person convicted of an MCDV.
The trial court agreed with Mr. James. The trial court's ruling highlighted the conflict Mr. James believed was determinative. Penal Code § 242 can be violated by "the slightest touching," however 18 U.S.C. § 921(a) (33)(A) (ii) requires "the violent use of force against the body of another" and "physical force" that "is not de minimis." The trial court therefore issued a writ of mandate and prohibition directing the State of California "to follow California law regarding the elements of Penal Code § 242." This was somewhat ambiguous, as what was really desired was an order than he be recognized as a person free of any conviction for an MCDV.
The State of California appealed to the Fifth Appellate District. The appellate court explained from the outset that it would follow the categorical approach, which states, that "when a statute dictates that the predicate offense have enumerated elements, [the] court must look only to the predicate offense rather than to defendant's underlying acts to determine if the required elements are present."
U.S. v. Howell
(8th Cir., 2008) 531 F. 3d 621,622.
In looking at Penal Code § 242, the statute defines battery as "any willful and unlawful use of force or violence upon the person of another." "Willful" implies simply a purpose or willingness to commit the act. It does not require an intent to injure another. It need not be violent or severe. It need not cause bodily harm, or even pain. It need not leave a mark. "Even a slight touching may constitute a battery, if it is done in a rude or angry way."
People v. Hernandez
(2011) 200 Cal. App. 4th 1000, 1006.
However, in looking at § 921(a)(33)(A)(ii), the court noted that the definition of an MCDV includes "the attempted use of physical force." This means no touching at all.
Consequently, the conviction for violating § 242 constituted an MCDV under the federal Gun Control Act. Accordingly, the Fifth Appellate District reversed the ruling of the trial court. This meant Mr. James indeed was barred from owning a weapon to become a reserve deputy sheriff after all.
Justice Gomes dissented, citing to Shirey v. Los Angeles County Civil Service Comm. (2013) 216 Cal. App. 4th 1, wherein the court of appeal found a deputy sheriff's conviction for violating Penal Code § 242 was not an MCDV. In the Shirey case, the court of appeal noted that the U.S. Supreme Court had construed "use or attempted use of physical force" in relation to other federal statutes as requiring "a quantum of force greater than de minimis use of force or offensive touching" see; e.g. Johnson v. United States (2010) 559 U.S. 133,138.
The citation for the Fifth Appellate District Court ruling discussed above is Scott R. James v. State of California (5th App. Dist., 2014) 229 Cal.App.4th 130.

For more information about the issues in this case, click on the following articles:
Federal Lifetime Ban on Owning a Firearm Applies After Misdemeanor Conviction for Domestic Violence under California Law
Restoring The Right to Own a Firearm After Being Convicted in California of a Crime That Triggers a Ten Year Ban Is No Easy Task.
Contact us.