Long Beach, Possession of Heroin and Xanax for Sales
Our client, age 24, had lived a life of an addict struggling to regain control. He had grown up in Palos Verdes and was given opportunities that few are so lucky to have. However, he began smoking marijuana and then using meth before graduating from high school.
This habit led to numerous absences from school and eventually dropping out of high school. He was arrested numerous times for minor offenses such as possession of marijuana and methamphetamine. He also picked up a DUI and was convicted of shoplifting several times.
Summary in 50 Words or Less: Long Beach case for client with extensive criminal history, with a six-year joint suspended hanging over him and several violations of probation, resolved for 32 months of state prison.

At age 21, he was arrested and later convicted for residential burglary (Penal Code § 459), a strike. While negotiating a plea bargain, he committed a commercial burglary (Penal Code § 459). The two cases were consolidated and our client was sentenced to two years in state prison. He served just over a year before being released in 2014.
Once released, he attempted to cure his addiction to drugs, but he fell "off the wagon" many times. He tried to work, but had difficulty keeping any job. He committed a petty theft from Home Depot in Torrance and was sent to jail for a 60 day sentence, which included a parole violation and a probation violation.
Once out, he again tried to sever his addiction to drugs, which had included an addiction to heroin. He went to Fred Brown Recovery and the methadone clinic in Wilmington, but it was a losing battle.
He was then arrested on a further possession charge, this time for sales because he had about five days' worth of methamphetamine. The case was negotiated for 180 days in county jail, with a six year joint suspended sentence.
Once out of jail, he tried again to sever his addiction to drugs. However, on his birthday, he was given a bit of money and chose to use it to buy about 15 black tar heroin pieces and about 15 Xanax bars. He then used several of each and made his way over to Home Depot in San Pedro, with the remaining heroin and Xanax in his pocket.
Once there, he decided to stuff some battery packs in his pants. Loss prevention spotted him doing so and stopped him. They asked him to go to an office in the back of the store while they called the police. Once he arrived in the office, loss prevention asked him to remove the battery packages from his pants, which he did. He also took out the drugs, pretending they were trash and asked to dump the items in the trash can.
Our client then began showing the signs of overdosing. Home Depot called 911, which came within minutes and found the heroin and Xanax in the trash can nearby. Our client was then transported to the hospital and arrested. It was an extremely sad situation. He was facing a six year prison sentence on the joint suspended.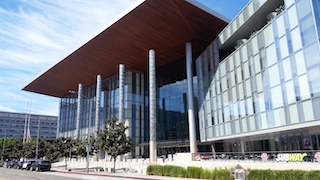 Long Beach Courthouse
His grandparents called Greg Hill & Associates, who filed a sentencing brief and a supplement to this to seek a deal from the Long Beach judge by pleading in the open. The brief included a discussion of each of the sentencing factors under California Rules of Court, Rule 4.414.
The efforts seemed to help, as the initial deal of four years in state prison (two years, doubled for his prior strike) was negotiated to no prison. The Long Beach District Attorney agreed to allow our client to enter a drug treatment facility, which our client was accepted to, and the Long Beach judge agreed to release him to the facility. The deal from the judge was if he could stay in the residential treatment facility for six months, she would allow him to stay there for another six months and avoid the six years in state prison entirely.
Once our client was in the residential treatment facility, however, he left and was arrested by the Lomita Sheriffs for being under the influence of methamphetamine while at a hotel along Pacific Coast Highway in Harbor City.
It was, quite frankly, a mess. With the new case, the offer increased to four years again. Greg Hill persisted in trying to preserve the residential drug treatment deal. He knew it was a tough, tough situation, but filed a
Romero
Motion to strike a strike for purposes of sentencing. The motion was a long shot, as the prior strike was not even three years old. Indeed, the Long Beach judge denied the motion, but empathetically praised the effort.
However, the District Attorney was more moved. She agreed to amend the complaint to allege a sales of marijuana charge instead, with an agreement to allow our client to plead to the low term, doubled. This meant a sentence of thirty-two months, rather than 48 months.
The client accepted this new deal, thankful that not only had Greg Hill & Associates helped him avoid the six years in prison despite two probation violations and in fact, resolving the case for 32 months, which was less than half of the six years.
For more information about the issues in this drug case, please click on the following articles:
Defendant Violates Probation on a Seven-Year Joint Suspended Prison Sentence; under AB109, Sentenced to Seven Years in County Jail
Contact us.