Long Beach, Motion to Suppress Drugs Wins, Case Dismissed
Our client was stopped by Long Beach Police Department officers as he was riding his bicycle along Ocean Boulevard just west of Pine Avenue. It was about 10:00 p.m. It is an area with a large population of homeless people. Drug sales are frequent, common and visible in the open.
Our client was indeed in the area for that purpose. He looked like a drug addict. He talked like a drug addict. When police stopped him to advise him that he needed to install a light on his bike (not having such a light is a violation of Vehicle Code § 21201(d)), they did not then give him a ticket for riding a bike without a light.
Condensed Version of This Case: Motion to Suppress Evidence granted in Long Beach Superior Court based on police conducting a prolonged detention. The evidence found by police, a bag of meth weighing about ten grams, was suppressed and the case dismissed.
Instead, they held him on the sidewalk, asking him where he was coming from, where he was going, if he knew what time it was, etc. They were keen to see if he was under the influence of drugs and if he'd say something that revealed he was looking to buy or sell drugs in the area.
Our client did not give an answer that helped the officers. Consequently, with no indication that he might be dangerous in any way to the officers, the officers then asked to frisk him for weapons. The client said no. The officers had no warrant. They decided to search him anyways.

Once they felt something in his pants pocket, they asked him what it was. It was drug paraphernalia and a bag of methamphetamine weighing ten grams. He also had about $100 in small bills in his other pocket. Police then arrested him for possession of a controlled substance for purposes of sales (Health and Safety Code § 11378).

The father of the client came to Greg Hill & Associates and explained the case. His son was let go by the police and was at work when the father stopped by our office.
Greg listened to the father and immediately recognized that the case facts seemed to mimic those of a recently decided U.S. Supreme Court decision that Greg had read and really liked, Rodriguez v. U.S. Supreme Court ((2015) 575 U.S. 348, 135 S. Ct. 1609, 191 L. Ed. 2d 492. In that decision, Justice Ruth Bader Ginsburg explained that a police detention could be unlawfully prolonged, making any search and seizure thereafter illegal as well.
Greg explained to the client's father, Justice Ginsburg stated that a routine traffic stop is more like a brief detention to stop and frisk under Terry v. Ohio (1968) 392 U.S. 1, 190, rather than an arrest. Its tolerable duration is determined by the seizure's "mission," which is to address the traffic violation that warranted the stop. "Authority for the stop ends when tasks tied to the traffic infraction – or reasonably should have been – completed." A gratuitous further search (as was sought here) is improper, in other words. In Rodriguez, the U.S. Supreme Court said the drugs discovered should be suppressed and therefore, the case dismissed.
Greg therefore appeared for the client and filed a motion to suppress. The motion analogized our client's bicycle stop to the traffic stop in the Rodriguez case. Rodriguez was pulled over for veering his vehicle on a Nebraska highway. The officer prolonged the traffic stop without reasonable suspicion in order to conduct a K-9 sniff search, which led to the arrest of Rodriguez. The attorney for Rodriguez then moved to suppress the drugs found by the drug dog. California Penal Code § 1538.5 gives the Court the power to suppress evidence when certain evidence is illegally gathered. After all, if the detention is illegally prolonged, then the search is illegal, too, and all evidence gathered therefrom must be suppressed as "fruit of the poisonous tree." Wong Sun v. United States (1963) 371 U.S. 471.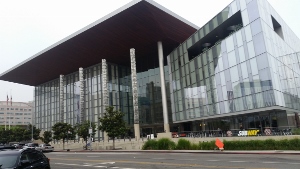 Long Beach Superior Courthouse
The judge in the Long Beach Superior Court read our motion and agreed. He granted the motion and the prosecution thereafter quickly dismissed the case. The client was obviously very happy, as was his father.
For more information about the issues in this possession of drugs case, please click on the following articles:
Contact us.