Long Beach, First Marijuana Sales Case to Have Prop 64 Apply
Our client, age 26, had a lengthy criminal history, including for several felonies, but never for the sales of a controlled substance.
He was rebuilding his life, having gone to school to become a barber, and was enjoying his first steady job at a barbershop in Compton. One day, after being paid for the last week's work, he picked up a customer who had been in the shop and needed a ride back down to Long Beach, where our client lived.
The Gist of This Article: Our client was charged with possession of marijuana for sales, a felony at the time. We knew that Proposition 64, the Adult Use of Marijuana Act, was pending for a vote and if passed, would change the felony to a misdemeanor. Therefore, we continued the case a few times to let the election take place and when it did, Prop 64 was passed. We then resolved this case as a misdemeanor, which made our client very happy.

It was still daylight out when our client picked up his customer. Our client had over $600 in his pocket and since he had a medical marijuana recommendation, about 20 grams of marijuana in two jars and a digital scale.
Police apparently believed our client looked suspicious, especially with another early-twenties guy in the front seat driving through a neighborhood known for drug sales. When our client allegedly did not stop completely at a stop sign (our client was looking in his rear-view mirror at the cop following him quite closely), the cop's flashing lights illuminated.
Our client immediately pulled over. The client's customer opened up the passenger car door and ran away, only to be caught about a block away hiding in a garage. The customer was found to have a large amount of cocaine in his pocket, as well as a small amount of heroin.
Police, without a warrant and without getting any consent from our client, immediately opened all four doors of the car, although there was no one in the back seat. They searched the car, finding the digital scale and the two mason jars with fresh marijuana. Our client also had his pay in his pocket, which police quickly attributed to sales of marijuana. Our client even explained that the money was his pay, but police ignored him.
Our client was arrested for possession of marijuana for purposes of sales (Health and Safety Code § 11359). When this took place, Proposition 64 had not yet been passed.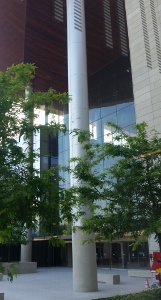 Governor George Deukmejian Courthouse in Long Beach
Our client first appeared in the Long Beach Superior Court on his own with a public defender, confident that the charge would be dropped to simple possession and he would be offered diversion or PC1000. However, this did not happen. The complaint against him alleged possession of marijuana for purposes of sales and the offer was 4 years of state prison (to be served in county jail under AB109). Our client was shocked.
He then called up Greg Hill & Associates. Greg had represented the client in prior cases, so he had good rapport with the client. Greg met with the client and discussed the case facts, as well as what he planned on doing. This was three months before Prop 64 was to be decided by California voters and its likelihood of being passed into law, or its effects, were not well known.
Greg explained how he planned to file a motion to suppress, arguing that the traffic stop was unreasonably and unlawfully prolonged, meaning the marijuana found was the product of an unlawful search and seizure. Thus, it would be inadmissible and the case dismissed. The U.S. Supreme Court, recently in
Rodriguez v. U.S. Supreme Court
(No. 13-9972, April 21, 2015, 2015 DJDAR 4311), spoke clearly on this subject. In explaining her reasoning, Justice Ginsburg stated that a routine traffic stop is more like a brief stop to stop and frisk under
Terry v. Ohio
, rather than an arrest. Its tolerable duration is determined by the seizure's "mission," which is to address the traffic violation that warranted the stop. "Authority for the stop ends when tasks tied to the traffic infraction – or reasonably should have been – completed." A gratuitous further search (as took place here) is improper, in other words.
Greg then substituted in on the case and discussed the case facts with the Long Beach District Attorney, explaining how he thought the search was improper. He also described who our client was and what his ambitions were in life. The offer dropped to two years in state prison, to be served in county jail.
Greg then prepared the motion to suppress and, in response, the prosecutor lowered her offer to 60 days in county jail. At this point, the client was quite happy and eager to take the offer, but the November, 2016 election was just 20 days away and newspapers were predicting it would pass.
Greg put the case over one more time before a preliminary hearing, calendaring the hearing for two days after the general election. The electorate then passed Prop 64, which changed Health and Safety Code § 11359 to a misdemeanor with a maximum punishment of six months. The prosecutor reduced the plea bargain to 30 narcotics anonymous meetings and a misdemeanor, which the client accepted.
For more information about Prop 64 and marijuana sales, please click on the following articles: