Lomita, Domestic Violence (PC § 273.5(a)), No File
Our client, age 33, was at home with his wife and two young children on a recent holiday. He and his wife had been married for seven years. They lived in a duplex in Lomita.
His wife did not work at all. Our client owned his own business in Hawthorne that required long hours and often work seven days per week.
Brief Synopsis: Our client looks at his wife's cell phone and sees she bought airplane tickets to go to Pakistan with her kids without him the following day. The client confronts her about this and she calls the Lomita Sheriffs, claiming he beat her. The sheriffs come and arrest him and the wife and kids leave for Pakistan. Case not filed after Greg discusses the case with the Lomita Sheriffs and the Torrance prosecutors.

As they were eating breakfast, their older child, age four, asked our client's wife, "when are we seeing Pappi?" This question suggested to our client that their child was looking forward to seeing her grandfather in Pakistan, our client's father-in-law.
Our client's curiosity was aroused, as he had been suspecting that his wife had planned something because she was increasingly secretive about everything. For example, she did not want to make any plans for the Christmas Holiday period at all, even though last year the couple had enjoyed a few days in the snow with their young children in Big Bear. After last year, they looked forward to similar vacations that strengthened their family and created fond memories for the kids.
This year, however, things did not appear to be heading in that direction. Consequently, our client reached over and grabbed his wife's cell phone. He casually started going through her e-mails and found a travel confirmation for just her and the two kids to Pakistan to leave the very next day.
He calmly asked her what this was and why she had not discussed this with him, yet she spent his money on the tickets. Instead of responding, she attacked him, kicking him, pushing him and trying to get her phone back.
Our client immediately stood up and defended himself from her kicks. As she realized she would not get the phone back, she started pulling on his hoodie, trying to pull him to the ground. Our client did not want to fall to the ground, so he pushed her hands away.
The wife became very frustrated that she was not able to get her cell phone back, so she threw herself to the kitchen floor and, laying down, face down, started pounding the floor with both her fists and kicking her legs as a toddler is known to do when frustrated. Our client looked on with disbelief.
Our client then realized his wife was experiencing something akin to a psychotic episode, so he urged her to "calm down, please, calm down," but this only seemed to fuel her anger more.
Our client then separated himself from her and texted his parents, who lived nearby, to come to the house to help handle the kids.
While his parents were en-route, our client's wife ran to the kitchen and grabbed a large, sharp steak knife. She then threatened to slit her wrists if our client did not return the cell phone immediately.
Our client was confused. He wanted to know if his wife was kidnapping the children with a one-way ticket to Pakistan to never return. He wanted to read the full e-mail with the airline reservation confirmation. He wanted to know if she was scheduled to return and if so, when.
Our client's parents arrived quickly. Our client's father, age 67, came into the house first and our client's wife ran up to her father-in-law and kicked him in the groin. She then ran out of the house and had her Pakistani neighbor call the Lomita Sheriff's Department.
The Lomita Sheriff's Department came and the wife, crying hysterically, explained that our client had beaten her up, punched her, strangled her, kicked her and pushed her. Our client just stood there in disbelief.
The officer immediately arrested our client and took him to the Lomita Sheriff's Station, where he spent the next seven hours. While at the Lomita Sheriff's station, he explained what had happened, stunned at the last few hours.
The Lomita Sheriffs then released him on $50,000 bail for felony domestic violence (Penal Code § 273.5(a)) and had him sign a promise to appear in the Torrance Superior Court in a few weeks.
The client immediately called Greg Hill & Associates and spoke with Greg Hill for nearly 90 minutes. He then came to the office and spoke with Greg for another hour.
The client retained Greg Hill & Associates and Greg immediately drove to the Lomita Sheriff's station the same day in person. Greg went into the sheriff's station and luckily was able to speak with the handling detective about our client's use of reasonable self-defense. The detective provided Greg a copy of the police report.
Greg then prepared a letter to the Torrance District Attorney's office, enclosing the client's resume and some family pictures. Greg explained that the alleged victim had fled overseas to Pakistan with the couple's two young children. Greg also explained how our client had used reasonable self-defense under the circumstances and that if the case was filed, Greg would not waive time for a speedy trial.
Greg explained that he would demand a jury trial at the soonest opportunity because the victim might be overseas at the time.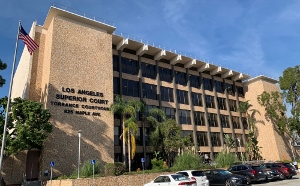 Torrance Superior Courthouse

Greg and the client then appeared together in the Torrance Superior Court for the arraignment, quite nervous as to whether the case was filed and if so, whether it would be a felony or misdemeanor. To their mutual relief, the Torrance City Prosecutors' Office and the Torrance District Attorneys' Office both declined to file a criminal case.
Our client was relieved greatly, as he learned from relatives that his wife's goal was to have him convicted of domestic violence so she could win custody of the children and secure herself child custody payments until the children were 18 so she would not have to work, at least until that time.
For more information about domestic violence and what to do when there is a case rejected for filing, please click on the following articles:
Contact us.