Is Negligently Late-Filed Petition to Commit an SVP Barred?
It has been said that our judicial system is built upon fairness and strictness, but enforced through procedural requirements. If the procedural guidelines are violated, the substantive laws cannot be applied. Such noble principals are often tested in the context of violent crimes, as well as sex offenses.
The Gist of this Article: A late-filed petition to institute Sexually Violent Predator commitment proceedings was not barred because the appellate court determined that the mistake was made in good faith.

In the case of Albert Sokolich, this was epitomized. In May of 1995, Sokolich was convicted in Los Angeles Superior Court of annoying and molesting a child under the age of 18 (Penal Code § 647.6) and carrying a concealed firearm in a vehicle (former Penal Code § 12025(a)(1)), after two girls, age 11 and 12, reported that he had been following them for over a month.
Sokolich was sentenced to three years of summary probation, five days in jail and ordered to undergo psychiatric counseling.
Between November, 1999 and February, 2000, Sokolich then engaged in several incidents involving sexual misconduct involving children ages six and eight, including exposing himself and soliciting oral sex. Following his arrest, officers found a knife and thumb-cuffs in his car. Sokolich was again convicted of violating 647.6 and this time, placed on five years of formal probation, required to serve 180 days in county jail and participate again in psychiatric counseling.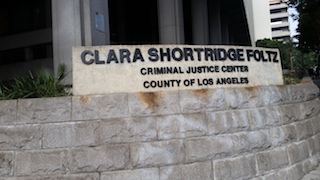 Clara Shortridge Foltz Criminal Courts Building CCB Downtown LA
Once out, he was then arrested and convicted of oral copulation (Penal Code § 288a) and 647.6 again. He was then sent to prison for nine years and four months.
In a letter to the district attorney dated April 15, 2009, the California Department of Mental Health (DMH) recommended that Sokolich be committed as a sexually violent predator (SVP). The letter erroneously listed his release date as April 24, 2009. The correct release date was actually April 20, 2009.
On April 20, 2009, not knowing the correct release date, the district attorney filed a petition seeking Sokolich's commitment as an SVP.
Sokolich then filed a Motion to Dismiss / Writ of Habeas Corpus, arguing that he was not subject to confinement because the petition was filed on his release date. His motion relied upon Welfare & Institutions Code § 6601(a)(2), which states, "a petition may be filed under this section if the individual was in custody pursuant to his or her determinate prison term, parole revocation term, or a hold placed pursuant to section 6601.3, at the time the petition is filed."
Sokolich argued the petition was not timely filed, arguing that on April 20, 2009, he was not lawfully in custody pursuant to his prison term, parole revocation term or any hold. Sokolich further maintained that there was no "good faith mistake of fact or law."
The trial court granted Sokolich's motion. The court found there was negligence by the DA's office, but no good faith mistake.
The People then appealed to the Second Appellate District, which concluded that the trial court erred.
The appellate court cited to
People v. Dias
(1985) 170 Cal.App.3d 756, which interpreted the former Mentally Disordered Sex Offender Act (former Welfare & Institutions Code § 6300 et seq.) and
People v. Superior Court
(
Whitley
) (1999) 68 Cal.App.4th 1383, 1387-1392). In
Dias
, the California Department of Corrections and Rehabilitation (DCR) mistakenly extended the pertinent individual's term of confinement due to a misinterpretation of the applicable statute. Although the petition for individual's commitment as a mentally disordered sex offender was filed while he was unlawfully confined, the appellate court affirmed his commitment order because "the record . . . contain[ed] no hint of negligent or intentional wrongdoing by the persons charged with determining [his] release date."
In following the
Dias
case, the court determined that a good faith mistake does not require the absence of negligence. Good faith is "a state of mind indicating honesty and lawfulness of purpose: belief in one's legal title or right: belief that one's conduct is not unconscionable"
Langhorne v. Superior Court
(2009) 179 Cal.App.4th 225, 238.
In looking at the record, the appellate court found nothing to indicate the DA's negligent late-filing was not in good faith, so it reversed the trial court and directed a writ of mandate that the trial court reinstate the petition for commitment of Sokolich.
We find this ruling troubling, as it seems to bend the rules for the prosecution. We rhetorically ask whether the same court would apply such flexibility to Sokolich were he to file a late response to any papers demanding a response from the prosecution.
The citation for the Second Appellate District Court ruling discussed above is People v. Superior Court (real party in interest Albert Sokolich) (2d App. Dist., 2016) 248 Cal.App.4th 434.

For more information about sexually violent predators, please click on the following articles:
Contact us.