Is It Burglary to Seek a Full Refund for Items on Sale?
There is a common scheme that our office has seen play out involving reimbursement for items on sale. We suspect it often proceeds undetected.
Summary in 50 Words or Less: Burglary is the entry into a home or commercial establishment with the intent to commit a felony therein. The following case involving a rather clever, but ultimately flawed, attempt to get a refund for the full sale price on an item after paying a discounted price in Walmart.

Jesse Emerson Isom, however, was detected as he tried to carry out this common ruse. Mr. Isom admitted to police that he would go to a store, buy items on sale and then doctor the receipt to appear as if he had paid the full price. He would then return to another store in the chain, i.e. Walmart in another city, and turn in the purchased items for a refund of the full price. This allowed him to survive for several months, as he did it repeatedly and methodically.
He did so until June 26, 2013, when an asset protection associate in a Murietta Walmart and a service manager at the store reviewed a store surveillance video. The two employees noticed Mr. Isom returning items with a fraudulent receipt. The employees recognized Isom because he had been in the store the prior night also returning items.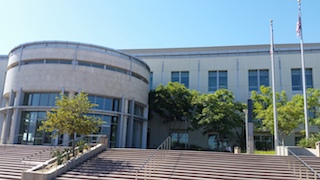 Murietta Courthouse
The fraudulent receipt reflected items purchased at a Walmart in Bakersfield. The Bakersfield store faxed over the original receipt. The store quickly noticed that Isom had removed the coupon discounts from the original receipt. The Murietta store then contacted the Murietta police, who arrested Isom.
When the Murietta police arrested Isom, he had multiple receipts, including from a Walmart in Visalia. Isom had other bulk items that appeared to be purchased at another Walmart.
Isom waived his
Miranda
rights and explained that he had been unemployed for several months and during that time, he had been making purchases at Walmart with coupons and returning the items for their full value. He would take the receipt, cut off the subtotal and total, so as to remove the discounted price; then copy the receipt to his own receipt paper to make it appear as though the receipt had not been altered and that he paid the full price. He would then seek a full price refund using the forged receipt.
Isom then basically convicted himself. He told the officer that when he entered the Murietta Walmart, he intended to return the items previously purchased at discount prices and get the full price back for them by using the altered receipt. He explained to the officer that he did not consider himself doing anything bad because the manufacturers of the purchased items would give Walmart the money for the coupon discount so the store did not really lose any money. When Isom was arrested, he had a small amount of meth in his pocket.
Isom took the matter all the way to trial, at which time he was convicted of two counts of burglary (Penal Code § 459) and one count of possessing methamphetamine (Health and Safety Code § 11377(a)). The Murietta judge sentenced Isom to four years in state prison. His sentence was made longer than one might expect because Isom had three prior convictions that resulted in prison terms (Penal Code § 667.5(b)) and one prior strike conviction (Penal Code §§ 667(c) and (e)(1), 1170.12(c)(1)).
Isom appealed the conviction, arguing that he did not commit burglary because he did not defraud Walmart by his forgeries of the receipts.
The Fourth Appellate District, in
People v. Jesse Emerson Isom
(2015 DJDAR 11061), quickly dispatched of this by explaining that "forgery requires the intent to defraud (Penal Code § 470(d). Defraud means to injure someone in their pecuniary or property rights."
Lewis v. Superior Court
(1990) 217 Cal.App.3d 379, 393-394.
Furthermore, the appellate court distilled down Isom's argument as there is no property right in a receipt, so his forgery of it does not defraud Walmart.
However, the crime Isom was charged was with burglary, which consists of an act, e.g. entering a store, "with the intent to commit grand or petit larceny or any felony" (Penal Code § 459). A person may be found guilty of burglary upon entering a store with the requisite intent, regardless of whether any felony is actually committed after entering the establishment.
People v. Montoya
(1994) 7 Cal.4th 1027, 1041-1042.
Isom admitted to the police that he entered Walmart with the intent to obtain a full price refund for items he purchased at a discount. He intended to walk out of Walmart with more money than he had paid for the items and a forged receipt was his means. This is, the appellate court found, clearly an intent to defraud Walmart. That is the crime, regardless of whether Walmart actually in fact does receive money from the manufacturer for the coupon value. Moreover, Walmart in effect is paying Isom this money, which Isom has no legal right to receive.
Consequently, the judgement of the Murietta trial court was affirmed.
The citation for the Fourth Appellate District Court ruling discussed above is People v. Jesse Emerson Isom (4th App. Dist., 2015) 240 Cal.App.4th 1146.

For more information about shoplifting, click on the following articles:
Watch our video about theft offenses by clicking
here
.
Contact us.